We know content is always king so if you want to take a website or blog for the long term, you need to write good articles.
But in some places, we have to hire a copywriter or a content writer to do small things like copyright. But you know what? There are many types of web tools on the Internet that will make your entire content ready with just one click.
In This article We will be talking to you, the 10 Best Unique Article Generator Tools, Which help You can generate unlimited articles for Free.
What is Article Generator Tool?
Article Generator is a tool that allows you to easily generate articles with just a single click or typing a few words, in a few seconds without any effort.
You do not need any skills for this and you can use that article in your blog, various projects, websites without any hesitation.
Should to use (Where)?
If you work hard to get a blog in the right place then I will never suggest you article generator tool because this type of tool usually does not have any natural sound in Word.
So this kind of tool can be used for minor copywriting work or guest posting.
1. Zyro AI Content Generator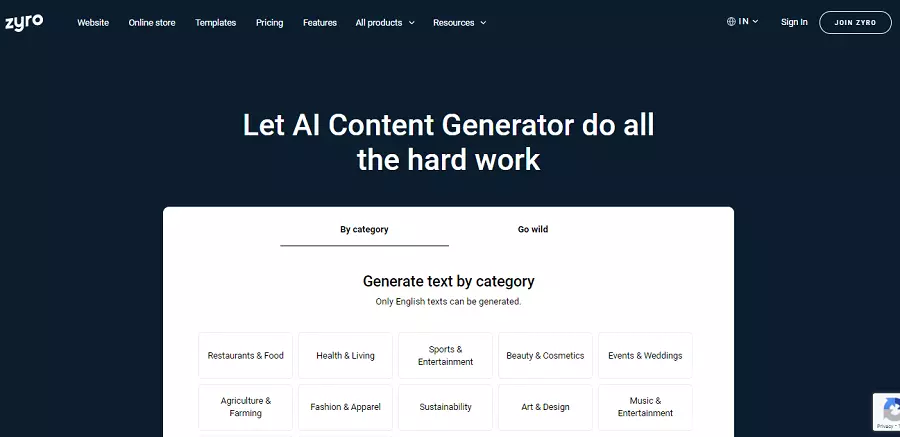 If you want to create a Responsive website, that is Zyro Website builder. but Zyro is not only the website builder. They also provide different types of Web Tools like Business name Generator, Logo maker, Content Writer, etc.
Zyro is also the best Ai Content writer. This is why I call Zyro the best content writer because it is ai-powered, meaning it generates all the content by artificial intelligence that is readable by a human. You can generate blog content for free but the Limited Contents.
If you want to use Zyro Ai Writer Unlimited, you have to take its paid plan, the price of which is given in the price section of this website, you can see it by clicking below.
What's Good
Free Content generator
Affordable Pricing
Multiple Suggestion with Instant generate
Organised and Multiple Categories
Human Readable and Ai Powered
Pricing Plans
No Free Trail is available
They can't Provide publish ready articles, So Human verification is must be needed.
2. Article Forge
Article Forge is a Web-based tool. It automatically generates articles through deep learning that is also AI-based human readable.
Article forge also provides their exclusive auto-posting features. You can set a time on your blog and at that time, this tool can automatically generate content. That generated content will be SEO optimized
What's Good
Its artificial intelligence can automatically generate articles in just 60 seconds.
A good aspect of this is that this AI tool generates in natural language.
You can Schedule your Post with automate.
The Article Forge tool supports articles in various languages such as English, Dutch, French, German, Italian, Portuguese and Spanish.
Another good thing about this tool is that it gives you 5 days free trial to use.
What's Wrong
Content Quality depends on the Keyword. So human verification is needed.
No Offline Version are available.
Pricing
Starting Price $27/mo (billed in annually).
3. Conversion.ai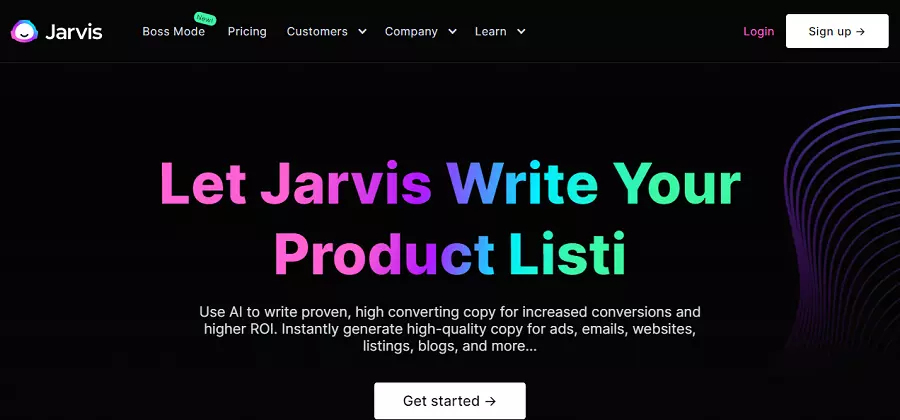 Conversion.ai is also known as Jarvis.ai. This is not only an auto content generator tool, but It is also a free Copyrighter tool. As I say This is a Good Copyrighter tool, So you can Create beautiful attractive Online ads like Google Ads, Facebook ads, etc.
In general, this web application is AI-based Smart recognition, and Human-readable But in the end, you have to check manually then you should.
If you are a New Ecommerce Seller, Then you can create Product descriptions easily. Not just simple product descriptions, you can write SEO-optimized product descriptions in less time.
What's Good
Create Actionable copy for advertising, Email Marketing, Blog Header etc.
This tool provides a 5 day free trial and You can Create Upto 10,000 Words of articles for free.
Jarvis generate Publish Ready article in Just Single click.
What's Wrong
As we have seen after in-depth observation, no errors were found.
They need a credit card to get a free trial.
Pricing
Starting there Pricing is $24/mo.
4. Writesonic
Writesonic is the most Powerful Simplycastic Ai Copyrighter tool on the Web. You can multiple works Using this Single tool. You can write any type of Copyright Work to use this tool like Google Ads, Facebook Ads, Email marketing.
What's Good
It's Simple and Straight forward.
This tool allows you to give your blog an SEO structure that allows you to rank in search engines.
If I compare it with other content generator tools, the Writesonic tool is cheap enough and does not demand high pricing packages.
What's Wrong
Depending on the ability of each AI Best Content Writer to generate content, the on-experience output on its stored database is not as good as expected and is not natural.
5. Ai Writer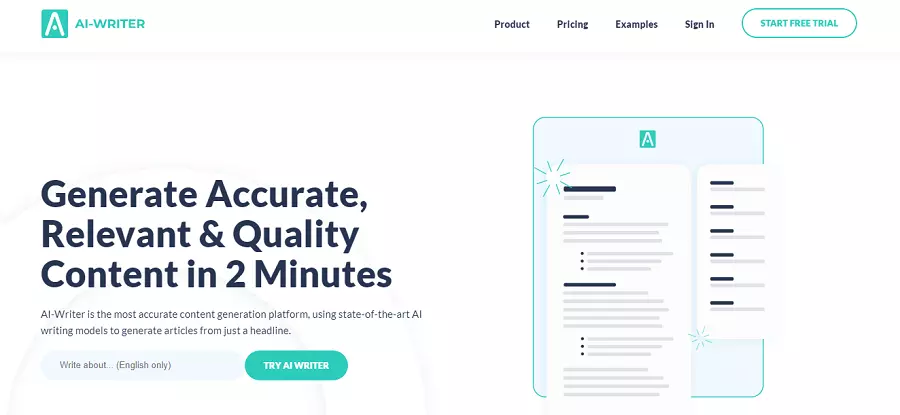 Ai Writer is an Intelligent content generator tool. So no registration is required. Now the question is how do you use this tool.
Just type in your keyword and this tool will generate content for you from the web. Remember, 70% of this content is unique, the rest is plagiarized or copied content. So you have to make the rest of yourself unique.
What's Good
This tool is good for small tasks like profile bio of social media accounts, creating our portfolio.
Article Spining Process is too fast.
What's Wrong
Unfortunately, this tool does not allow you to generate unique content.
The price is much higher than the working quality of this tool
6. Autowriter.ai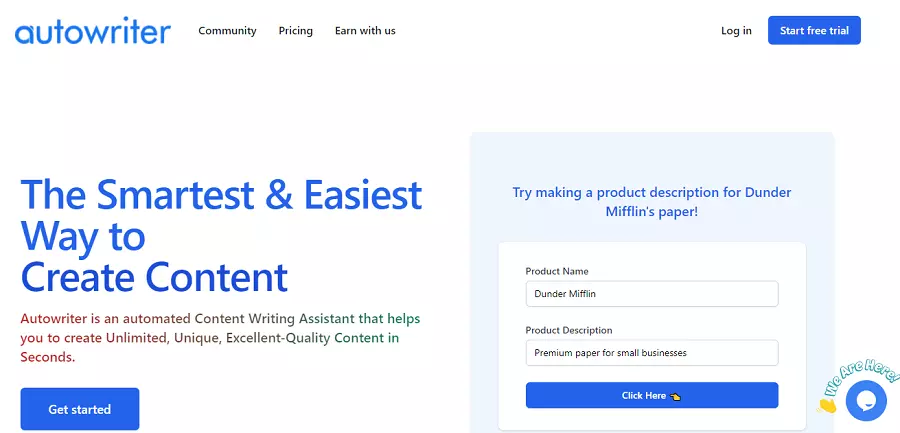 Autowriter.ai is a perfect Content Creation for every blogger, but it can sometimes put you at risk, meaning it sometimes provides poor quality content that is not human-readable.
If you are looking for an Ai based content writer tool for guest posting, this might be the perfect tool for you. This tool is similar to other yay riders. Just tell you your topic and your article will be generated immediately. No need to wait a second.
What's Good
If you subscribe to premium packets of this tool, you can instantly create unlimited content in one package and be ready to publish it on your website.
Free Premium Trial are available (No Credit Card required).
What's Wrong
This Tool is perfect for Guest Posting but not their content is published ready for the Primary Site.
7. FreeArticleGenerator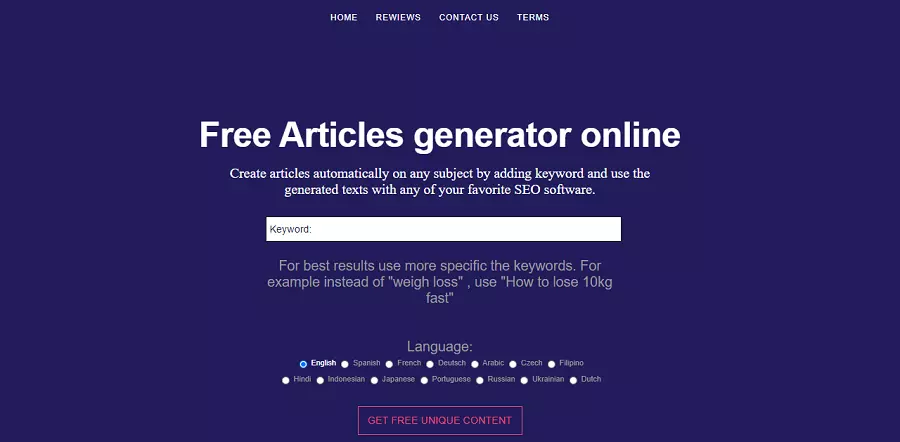 This is a Single Pager Simple Website. No need for any type of Registration, Just type your Researched Keyword and generate Unique articles instantly. This is a Completely Free article generator Tool.
A special feature of this article generator tool is that it supports multi-language, meaning you can generate articles in any language.
What's Good
This tool has no limit to generate articles, which means you can generate unlimited articles.
This is a completely free tool.
This tool supports multiple languages so you can write articles in any language.
What's Wrong
Although this tool is completely free, its writing quality is not as good as that of paid article generators.
8. Autorewrite.com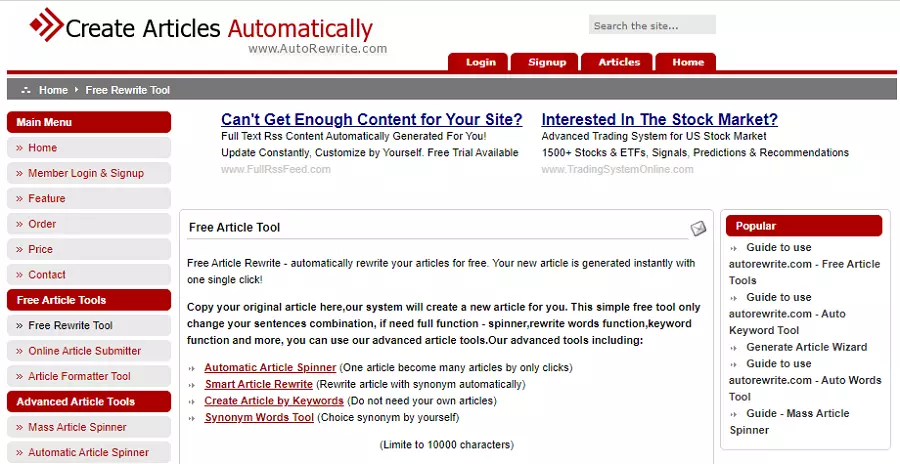 Autorewrite.com is the cheapest content generator tool that provides two main services, one is a multi-language article writer and the other is Advanced Article Service for English Advance charges a bit more and a multi-language writer charges a little less.
This tool provides a completely free article writing service, but the quality is not so good. If you use it, I would recommend using its paid service, which is much better than the free service.
9. Articoolo
Articoolo is a fully automated Content generator and Spinner tool. You don't need to paste any keywords, just type the topic of your content and you will have to wait and it will generate the content immediately.
Most surprisingly, if you use a WordPress website, Articolo will provide you with a WordPress plugin that will generate user-friendly content titles with content and allow you to publish content with a single click.
The price of this tool is not very high, this tool charges $ 19 for the first 10 articles. Even so, owning one is still beyond the reach of the average person.
What's Good
This tool will allow you to generate 1 article for the first time for free which will help you to understand its quality.
WordPress website users will be able to make better use of this articoolo with its plugin.
What's Bad
Don't Should to use this tool professionally on any primary website as the content quality is somewhat average.
10. Copysmith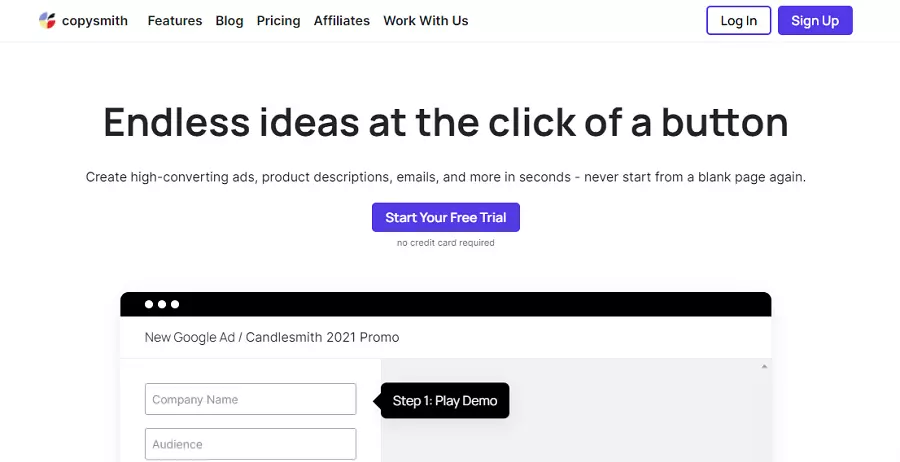 Actually, Copysmith is not just a Content creation tool, this is Copy Writing Tool. This tool helps you to create high converting posts, emails, product descriptions in just a second.
This website is very user-friendly and clean, you can see the demo of how to create content before using the website through its pre-built default simulator.
Copysmith provides you with a 3-day free trial so you don't have to pay any credit card details which is a good thing for Newbie.
Also Read the Article
Final Words
One of the 10 article generators that I have come up with will be used to generate unique articles. Share this article with your Blogger friends, Thanks