If you also own a website, so definitely you are interested to see how good or how bad is your competitors are doing. To compete with competitors it is important to know it's website's traffic.
But, how can we check other's website traffic?
Well, there are so many tools which can tell you any website's traffic. But they are not fully correct. But yes, those tools can tell you estimate the traffic of any site which is enough.
So, today I am gonna tell you about 10+ Best website Traffic Checker Tool For Free. Yes, you can use those tools for absolutely free, and not only traffic those tools show other important things also about the site. So, read this article at last if you also want to compete with your site competitor.
1. SimilerWeb
SimilerWeb is a very amazing online tool that gives you an estimated report of the traffic of any site. And not only traffic report it shows ranking and the average time which a user is spending on that particular website.
Many professional bloggers use this tool to quickly check the traffic and ranking of any site. Well, you can use it's extension also. And check the data of the site you are visiting on your browser.
This tool shows you estimated traffic, Bounce Rate, Rankings, and also in which country the website is ranking and from which country the traffic is coming to that particular site.
So, you can take an idea where your competitor site is ranking and most of the traffic coming from. And there are also so many other details. You just scroll down and you will get more details on the SimilarWeb tool.
2. Alexa
Alexa is the best tool that gives you accurate results of the ranking of any site. This tool didn't show how much traffic is a site gets. But, it shows the ranking of that particular site.
You can check both Global rank and Country rank. Also, these tools give you the report of ranking in past a year. And bounce rate, from where traffic is coming on-site, average time spent on site. And some other important details also.
In addition, these also give you the report of the website keyword on which it is ranking. So, with these details, you can take an idea, that your competitor site is ranking on which keyword and what is the ranking of the whole site.
3. SEMrush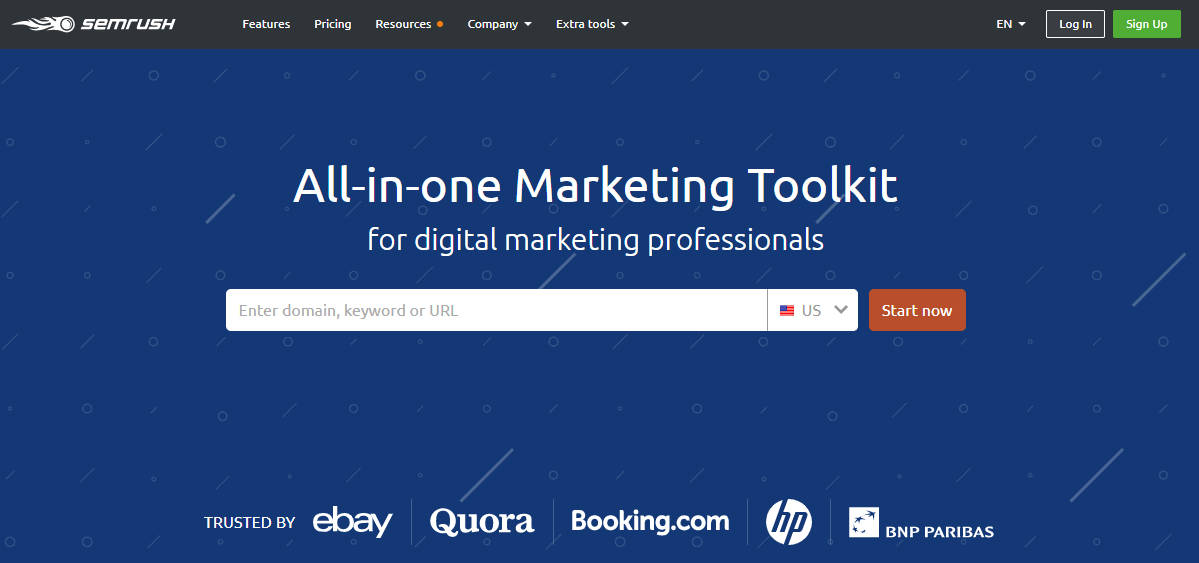 SEMrush is one of the leading names in the world of blogging because of its unique and unique features. With this tool you can do not only keyword research, but also complete research of the website very easily.
Its easy interface, which allows you to do everything very easily. Just sit down to the address of any website, get instant results and your competitor's data means keywords, backlinks, ranking position all very easily.
Try the Best Website Traffic Checker Tool
4. Traffic Estimate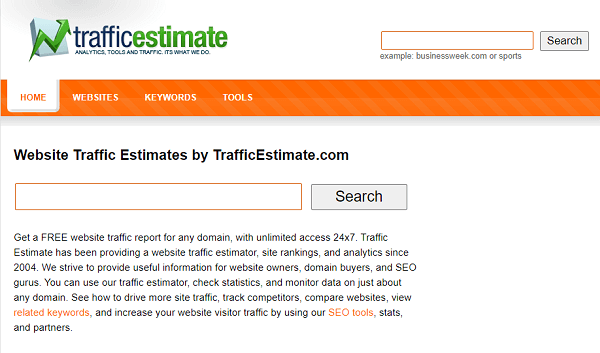 This online tool is also a good traffic checker tool that provides you an estimated value of data. Well, it is not so much accurate or good. But it will definitely help you to know about your competitor site or about any website.
The good thing about this tool is, that it also shows you the Metadata of any site. Like Meta Description, Meta Title, Keyword, H1, H2, and more.
This data can help you to know about the Home Page and SEO structure of any website you want. So that you can also change your SEO Structure and make it perfect.
Well, as I told you about Alexa before. This tool also shows you the report of Alexa Rankings. It means you can check Alexa ranking here also. You don't need to check Alexa ranking separately.
Another best thing about this site is that it also shows the server location and IP address. However, it is not required to know. But, the main thing is that this site shows so many things about any site.
Overall, this tool is very good and you should try this. But, this tool does not have every site data. Means for some site it shows, we didn't have any data. So you can check that particular site report on any other tool.
5. Ahrefs: Freemium website traffic Checker
Are You Looking for trusted SEO Tools?
If Your answer is YES! Then you can trust this tool by closing your eyes.
Ahrefs is all in one solution to You. Because using this tool you can easily analyze keyword research, backlinks, website ranking factor.
I have tested it myself, its accuracy is amazing. They mainly provide there paid keyword research tool but Ahrefs official Provide there Free Webmaster Analysing tool. You can easily audit Your Complete Website data.
You Can Check our Video Review to there Free Webmaster Tool.
But the only drawback is that if you want to take a full data audit of any website, you have to take a paid plan.
Its trial plan is starting Just $7 for 7 days. Click here
6. SpyFu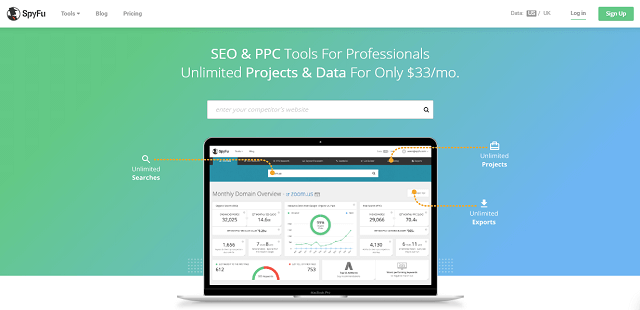 The other best and very powerful online tool that can help you to find out the traffic, SEO Metrics, Keywords, and ranking of your competitor is SpyFu. There are so many things that SpyFu gives you about your competitor site.
This tool is absolutely free. But not fully. You can check only a few and limited things with this tool. And if you want to full SEO Metrics, rankings, and all the keywords of your competitor site, so you have to purchase their premium pack.
But, also you can use it for free. Well, this online tool can give you the full data of any website you want. The data this tool show for free is enough to know about the competitor ranking, traffic, and other criteria.
This tool gives you the report in which, SEO clicks, SEO score, organic keywords, traffic is shown.
The best thing about this tool is that you can compare any two or three sites with each other and check the weakness of any particular site. Means, those keywords which are similar on both sites but one is ranking higher.
This tool has many more amazing features that can definitely help you in many ways. So, you should use this tool.
7. QuantCast

As you may not know, Quantcast is one of the most popular SEO agencies in the world, mainly providing SEO services for any website.
Their popularity in the digital marketing world depends on their audience measurement. They mainly help different brands to grow through advertising.
So which tool does Quantcast provide to their customers for free?
OFF-COURSE! Quantcast is Provide free Website Rank Checker tool for free.
Note that their traffic rank checker tool, through which you can check the ranking position of any website and the accuracy of this tool is much better than other tools, Then Click on audience data and Simple Paste the Website URL.
8. SitePrice
Well, actually SitePrice is a website price or value calculator. Which shows you the estimated value of any site. But in its report, it also shows the daily or monthly traffic of the particular website.
And the traffic report which this site shows is somehow correct. Not accurate but yes, it shows an estimated value which is more than enough.
Actually, no tool shows you the accurate results. Every website gives an estimate report. Well, with the website traffic checker and website value this online tool also shows the indexed URL in google as well as in Yahoo and Bing.
And the best thing about this tool is that it also shows Alexa rank and website speed.
9. SE Ranking
SE ranking is one of the most important website ranking tool in the world of SEO. With this tool you can easily get both paid and organic traffic to any site.
Easy interface and all useful tools in one platform. They provide different kinds of features like Keywords ranker, website traffic checker, backlink checker, Keyword Suggestion tool and you can also fetch competitor data with the help of this tool.
Register now for 14 Days Free SE Ranking Trail.
SEM Ranking also Provides Agency program, means If you also have an agency, you can work group wise with the agency license of this tool, for which you must pay extra for this type of license.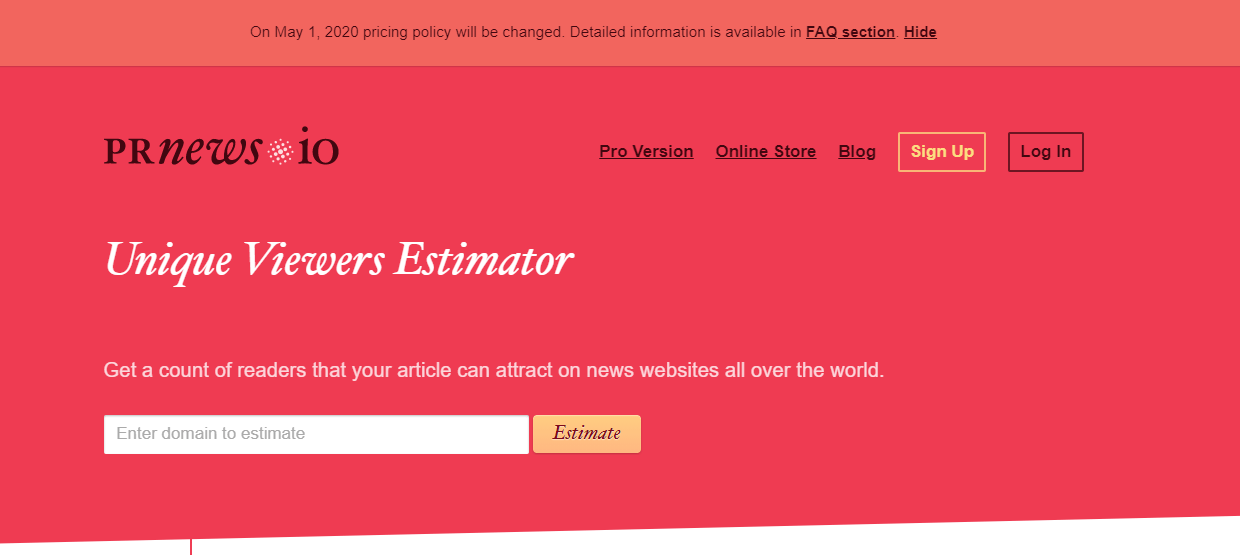 PRNews.io is Especially counting of the reader's data, who reads Your blog Post, Shows you the data of those who visit your or other people's website from analytics.
They provide both Services like Free Unique Visit estimator Tool and PRO. Big SEO professionals use their pro tools, you can see a lot of advanced data in their pro plan.
The free Website traffic checker tool can only calculate the monthly user's visiting data.
Conclusion
Overall, if you use this tool so definitely you will get to know about site traffic and other important things. And this is absolutely free. There is no premium pack or anything. Just visit this site to enter your competitor site URL and start exploring the report.