Google Blogger is the first choice of every new blogger because it is completely free but Google Blogger has some limitations. Because SEO(Search Engine Optimization) is not easy to do with Google Blogger but some basic SEO settings are very important for you to do.
An important SEO option is the Meta description on Blogger, which can only be read by Google bots and through which Google gives a position to each website in its search engine, which is called website ranking.
In this article I will tell you how you can easily submit meta description on Blogger site.
Why Meta description is Important
Meta Tags and Description is an address about blogs, which are the most important factor to rank your blogs on Search engines. Search Engine Just like a Robot, They Crawl everything, and all the time, you must understand Google completely about your blogs.
Blogger blogs are always SEO ready, Google is always the first priority because of blogger to their product. So Critical type SEO is not important to your blogs.
What is Meta Description?
Meta tags are HTML coding to your blogs, who are reads only on search engines, like Google.
The description is about to your Blogs and the Last part is Country, Which country do you belong to. Google are two types of work according to your domain. They are Worldwide wise and the Country. So the Country address is most important to your blogs.
Which topics are include your Meta Description
Some important point We are must be followed to write a meta tag Description. They are
Blog Titles
Blog Taglines
Blog Description
About us to your blog
Who is Blog Author
Language to Writing your blogs
Who is an index to your Blogs (important)
Country to your Blogs
How to Add Meta Description to your Website
Google Blogger Generally offers the option to put meta description tags on its new interface. The new interface of Google Blogger is very advanced so we will take a look, First we'll take a look at how you can put meta descriptions, tags.
By Default Features
First of all, Open your Blogger Dashboard and Click on the Settings button. Then Scroll Down the Page and Choose on Meta Description on blogger and Then Turn on the Button.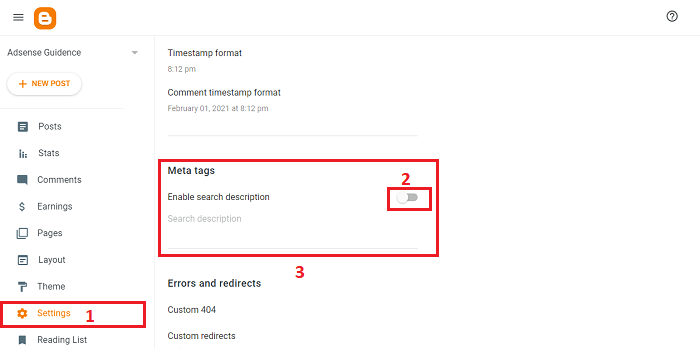 Then add the Text and Save now.
Finally You have add the Meta Description on blogger.
Manually Add Meta Description
Open the Blogger Dashboard and Click to Themes Option and Then Open the Theme Dashboard.
Then Click to Edit HTML option and Now Open the HTML editor on your blogger Themes.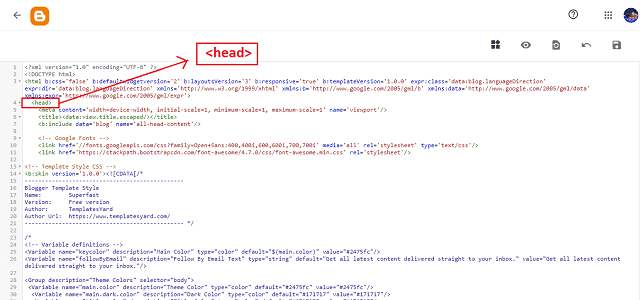 Then paste the Meta Description Code after the <head> tag and Save now.
How to Generate Meta Description on Blogger
There are many types of sites that ask you some questions about your site and generate SEO friendly meta description accordingly for free.
Personally, I like one of these sites very much, seeing its simple user interface, I shared that.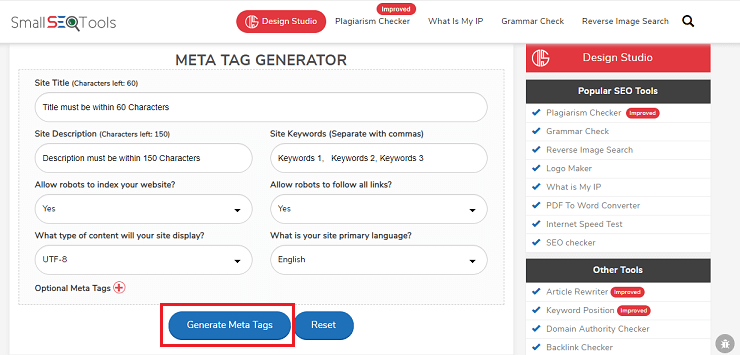 Then fill the all Website related data Which are Describe in bellow.
Description
This is must be written on 160+ words and This is about and mission to your blogs. So Please Perfectly put your blog's date.
Country
This is your identity. Always Put your genuine country and factor to visible to your interested audience. So mind that.
Keywords
Always fill the perfect and targeted keywords and must be used 3-5 keywords. Research on Google keyword planner.
Language
Must include Your Blogs language. This is a reasonable factor to visible your blogs on google. So Perfectly put that data.
Conclusion
Then click on Generate Meta Description on the blogger button. Finally Copy all HTML codes and Paste your Blogger HTML Sections.
Now You Successfully Placed your Blog's identity and Google now understands your blogs. Thanks for reading our articles. Must be Rate our blogs.