Do you want to Protect your WordPress Website? May you don't know, according to the report, 80% Website attack happens through the admin page of WordPress. So You Should to always hide WordPress admin page URL. Make Sure follow these Steps and Stay secure.
If you want to hide your WordPress admin page, Different Types of Plugin are available on the WordPress Store. But our recommendation the Best Plugin to hide the WordPress admin page URL.
More WordPress Tutorial: Click here
Why You Choose This Plugin
Different types of Plugin are already available, but Why we Choose this Plugin because You can easily Change Your WordPress Admin page URL. 600K+ Developer is Trust in this Plugin and the Positive ratting ratio is too high. So we recommend in this plugin.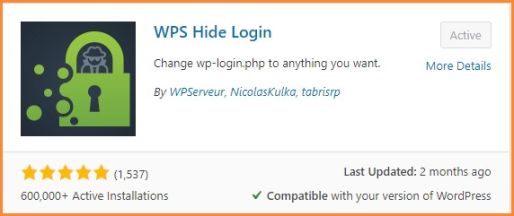 Plugin Name: WP-Hide Login
When We create WordPress website, Then there default URL here oldurl.com/wp-admin
How to Use WP-Hide Plugin
Open to the WordPress Dashboard, Then Click on Add New to under the Plugins Sections.
Find the WP-Hide Login Plugins and Click to install and Now Activate.
Then Click to Settings and Scroll Down and Change the Login URL.
oldurl.com/wp-admin >> newurl.com/abcd123
Then Save Changes and Done to Hide Your WordPress Admin Page URL.
Now Anyone Can't Access the old url.
Conclusion
So Guys, Hopefully You Understand to these Process. If Any Doubt Comment in This Post. Thanks