Email is usually the centerpiece of all businesses, based on which the fast impression of all businesses is understood.
An email address explains the first contact of that business to the people. That's why we should always choose business related or product related emails. There are two main types of emails, free email provided by any email provider, such as Google's Gmail, Yahoo's yahoo mail, etc.
Similarly, for every business, there is a business email, which is paid. We will discuss a few points below about free mail service and business email hosting services.
Difference between Free Email vs Business Email Service
| Description | Free(Personal) Email Service | Business Email Service |
| --- | --- | --- |
| Professionality | Like Un-Professional | Professional |
| Storage | Free Storage | According to your Paid Plans |
| Provider | Google, Bing, Yahoo | Godaddy, Hostinger, Namecheap |
| Extensions | @Gmail, @hotmail, @yahoo | @xyz.com, @yourcompany.com |
| Response Rate | 60% | 90% |
| Use | Personal Usage | Business Usage |
Friends, we usually use free email for personal purposes, but business mail is always used for marketing purposes and the business response rate is very high for which it is very important to have a business person.
To run this business you need separate hosting, which some hosting providers provide you, but it costs you a lot more money throughout the year. But on Black Friday and Cyber ​​Monday Deals you will find attractive discounts on email hosting,
Below I have mentioned the names of the 10 best email hosting Services providers, where there are attractive offers on Cyber ​​Monday.
8 Best Email Hosting Services Provider
1. G-Suite
We know google is Provide almost all Free Services like Gmail, Youtube, Mobile apps, blogger etc. Do You Know? Google also Provide many business tools to there Premium Plans as called G-Suite Solutions.
G-Suite is not Just a Single tools, they are Provides a bunch of business tools, like Hangouts for messaging and video conferencing, Google Vault for Data Storage and Protect your privacy.
Exclusive G-suite also Provide Cloud Storage for Business email hosting Services. You can Store upto 30GB data Per user to there Basic plans with includes Core Google apps.
Different types of Business Plans are available
Starter
Standard
Plus
Enterprise
Business Email
Business Email
Business Email
Business Email and MIME encryption
Join Upto 100 video meetings
Join Upto 150 video meetings + recording
Join Upto 250 Video meeting + Recording + Tracking
250 video meetings + recording + Tracking + noise cancellation,
30GB Storage
2 TB Cloud Storage
5 TB Cloud Storage
As Your Requirements
Standard Support
Enhanced Support
Dedicate Support
Advanced Security with Regional Language Support
Price: $6 USD
/ user / month
Price: $12 USD
/ user / month
Price: $12 USD
/ user / month
Contact Sales Teams
Try G-Suite Solution as it free for 14 days, Click here
2. Zoho Workplace
Zoho Mail is an email hosting provider company similar to G-Suite. They have been in the specialized cloud solutions industry for a long time. Zoho also has his own communication methods.
In these apps you will find all the interesting features, among them, cloud storage for saving documents, with the help of Office Suite you can create documents, spreadsheets, and presentations very easily.
Zoho Mail has introduced a new offline mode for their customers Features that allow you to easily send undo mail, recall mail, and 250MB attachments to anyone of there Paid Plans.
Zoho Mail offers up to 5GB of email storage and up to 25MB of media miles on your free plan, and you can access Webmail.
MAIL LITE
MAIL PREMIUM
WORKPLACE
Domain aliases
White labeling
5 GB per user
50 GB per user
Custom Storage Plans
Huge Attachments upto 250 MB
Attachments upto 1 GB
Custom Plans
–
Email Backup
All features of Mail Lite
Offline access
Offline access
Custom Plans
Price: $0.79
/ user / month
Price: $2.67 USD
/ user / month
Price: $1.33 USD
/ user / month
3. Hostinger email hosting
We know hostinger is the Popular hosting provider. They offers two types of Email Hosting plans Google Workspace email and Hostinger Email Hosting. Easy to use interface and the whole UI is mobile friendly.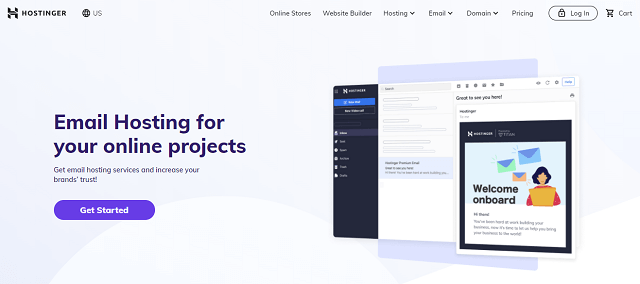 Hostinger is also used for conferencing by offering video integration services. Generally hostinger offers to types of hosting Plans like Business Email and Entreprise Plans.
Each of these plans has amazing features like Contact Management, ontime antivirus checking and multi-device support etc. Their email hosting plans start at $ 0.99, with 10GB of storage, 2 mail filters, Advanced anti-spam and much more.
| Business Email | Enterprise Email |
| --- | --- |
| 10 GB Email storage | 30 GB Email storage |
| Antivirus Check | Antivirus Check |
| Anti-spam Protection | 50 Email Aliases |
| Pre-installed Calendar | Multi Device Suport |
| Price: $0.99 /mo | Price: $2.49 /mo |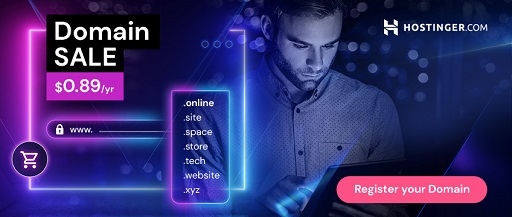 What I like most is that Hostinger gives you a 30 day money-back guarantee. If you do not like Hostinger service, you will get your full refund within 30 days.
4. Bluehost email hosting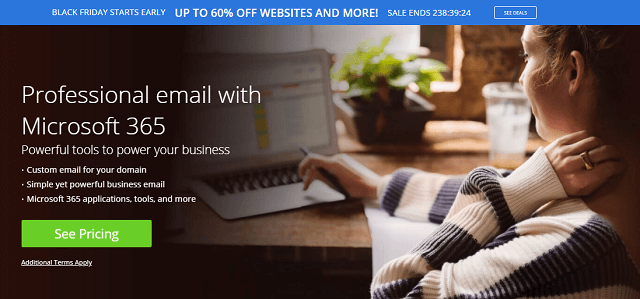 Do yo thinking to Starting a business to online, Then you must be need Business emails. Many types of email hosting providers are available in the market. Similarly, bluehost provides email hosting in very existing packages.
There unlimited email storage plans are starting on $2.99 /month. In this plans, You get unlimited storage and emails, when you are paying on at least 3 years from $99.
Basically three types of Emails package are available to there marketplace. like
Email Essentials: Bluehost offers
Email Storage 15 GB
Emails and Calendars
Outlook Web Access
Price: First yr. $2.99 per Person /mo
Renewal price: $4.99 per Person /mo
Business Plus:
Email Storage 50 GB
Emails and Calendars
External Storage Onedrive 1 TB
Microsoft Teams
Outlook cPanel Web Access
Microsoft 365 Online Premium
Price: First yr. $5.99 per license/mo
Renews at $9.99 per license/mo
Business Pro
Email Storage 50 GB
Emails and Calendars
External Storage Onedrive 1 TB
Microsoft Teams Access
Desktop for Microsoft 365
Access + Publisher for Desktop
Bookings and Invoicing Tools
Price: First yr. $9.99 per license/mo
Renews at $14.99 per license/mo
5. Office 365 Business Email Hosting Services

Although various vendor companies resell email-hosting from Microsoft, Microsoft itself provides email-hosting services at Somewhat expensive. We know Microsoft office provides various types of accounting software like Word, Excel, Powerpoint, Access, etc.
With Office 365, along with its premium features, you will get many security features including custom domain spam protection by providing email hosting. Since Microsoft Office 365 is its main software business, its price is slightly higher than that of other email hosting providers.
Like other email-hosting providers, Microsoft Office 365 has a monthly payment plan. Their plan is mainly starting at £3.80 per month. The following is the whole business package
Microsoft Office 365 Business Plan
| Features | Business Basic | | |
| --- | --- | --- | --- |
| Web & Mobile versions of Office apps | ✔️ | ✔️ | ✔️ |
| File Storage with 1 TB | ✔️ | ✔️ | ✔️ |
| Customers to Schedule | x | ✔️ | ✔️ |
| Realtime and accurate tracking of report | x | ✔️ | ✔️ |
| Advanced security | x | x | ✔️ |
| Device management | x | x | ✔️ |
| Price | £3.80 /mo | £9.40 /mo | £15.10 /mo |
6. Rackspace
If you buy email-hosting from the market, the hosting provider adds many more features to it and adds to the price of the package. But if you want to buy email-hosting instead of these and want it to be cheaper, then Rackspace email hosting may be the ideal hosting for you.
Rackspace is another Email Hosting Service Provider for Small business. If you want to Start your Small Setup and you don't want to Spend more money, Then Rackspace is here for you.
Like all other hosting providers, they also offer a variety of email-hosting features, all of which we explain below. With this you will get the support of Microsoft team's which will allow you to access everything like email, calendars, and contacts.
Rackspace Features
Rackspace offer a Single Plan to Starting from $2.99/user/month
100% Uptime Guarantee
Storage 25 GB from mailboxes
Unlimited aliases
Easy to Migration
Inbuild Spam & Virus Protection Features
Rackspace also gives you webmail application support, which allows you to easily sync all your data across desktop or mobile devices.
7. FastMail
Fastmail is a tool focused on Email Hosting Providers. Fastmail also provides you with many features like Like messages, contacts, and calendar events.
You can add multiple domains and hosting with your Fastmail account and from there you can use multiple emails to multiple domains for your personal brand or for your company.
Fastmail also gives you advanced security features, filters, easy to user interface and complete ad free experience. All its plans are budget dependent and you can easily use it for your new startup
BASIC
STANDARD
PROFESSIONAL
Storage 2GB /user
Storage 30GB /user
Storage 100GB /user
Calendars
Full featured Calendars
Full featured Calendars
Easy Import Tool
Easy Import Tool
Easy Import Tool
x
Custom Domain Support
Custom Domain Support
x
Popular Email apps Supported
(Outlook, iPhone Mail)
Popular Email apps Supported
(Outlook, iPhone Mail)
x
Advanced Snooze
Advanced Snooze
Price: $3 /user /month
Price: $5 /user /month
Price: $9 /user /month
8. iceWarp Email Hosting
If you want to take advantage of more email features at a lower price, then Icewarp's email hosting provider solutions are here for you. This is usually cloud computing solutions.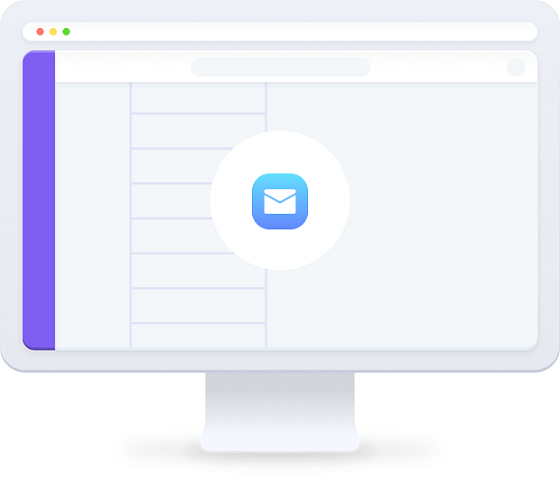 You can add multiple domain and Subdomain to use your business email address and matches the departments. You can Sync your existing data under the IceWarp account.
If you compare it with the package price, the price is much lower than the rest of the email hosting services. Its package starts at $3.00 per month with 30 GB of email storage, the powerful features of Anti-virus & AntiSpam Protection are absolutely free. Many things including unlimited groups & sharing.
Lite
Standard
Professional
Advanced Email & Calendar
✔️
✔️
✔️
Unlimited groups & sharing
✔️
✔️
✔️
Conferencing
✔️
✔️
✔️
Full-text search
✔️
✔️
✔️
Mobile Sync
(Exchange ActiveSync)
–
✔️
✔️
TeamChat with
Free Guest Access
–
✔️
✔️
Desktop Office –
an alternative to MS Office
–
–
✔️
Price
$3.00 /mo
$3.90 /mo
$7.00 /mo
Conclusion
We hope you like these articles and definitely find the best email hosting services to according your features and requirements.
Thank you for Spending your valuable time, Share this articles.