Are you looking for the best digital marketing training institute in Kolkata? This is the right place, where you find the best Digital Marketing Training Institute in Kolkata.
Kolkata is the City of joy. Kolkata is one of the popular metropolitan cities in India and the State of West Bengal. This time, a lot of cities are raising the digital marketing industries as the same Kolkata is not too behind.
Digital Marketing is the Great Scope to all over the World. Especially India is going to digitally Platform. Many companies are hiring Digital Marketer, So Too the times, Digital Marketing Job is too demanding. Many people are want to learn Digital Marketing Course but they haven't know the proper way. We will Prepare the complete List Where you will find the best institutes while you are in Kolkata locate.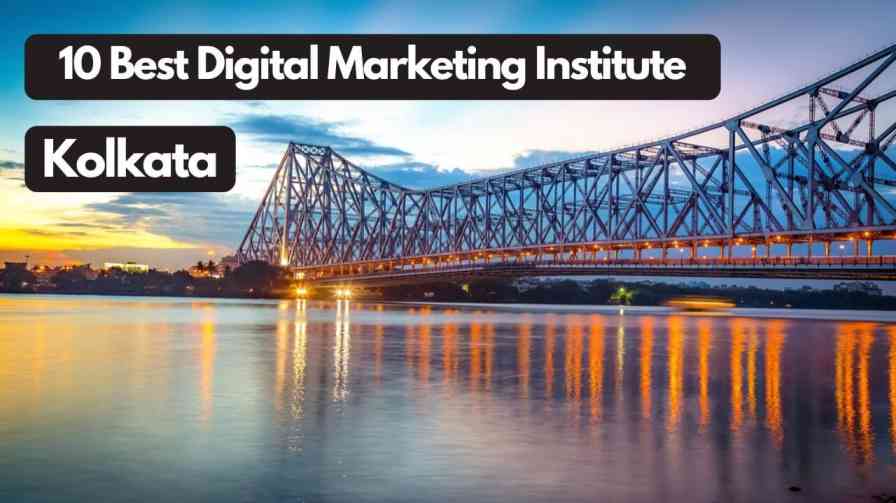 List of Digital Marketing Company in Kolkata
We will create a Top 10 list, where you can easily
Digital Vidya
Seven Boats Info-System
Internet Marketing School
Karmick Institute
W3 WebSchool
Calcutta Media Institute
Acesoftech Academy
Advanced Institute of Digital Marketing
NIHT digital marketing
White Hat Academy
1. Digital Vidya
Digital Vidya is located in CL4-Indira Pally, Jyangra Ghoshpara, Kolkata. It offers different types of courses Digital marketing Core and Data Analytics training center, Since 2009.
Over 26500 Professionals are 3800+ batches are already trained to over 55+ Countries. Digital Vidya also offers Free Internship Programs. After Completed their training Program, Digital Vidya Provide there Most Valuable Certificate and they provide great Placement support with regular Placement Updates.
Address:
Surasree Apartment, 3rd Floor, CL4-Indira Pally, Jyangra Ghoshpara, Kolkata – 700059
Phone: +91-80100-33033
Website: https://www.digitalvidya.com
Best Online Digital Marketing Courses : Click here to 80% OFF
2. 7Boats Info-System
7boats info-system is a leading digital marketing training Institute in India and exactly located on Kolkata. They offer both types of training programs to online and offline Classmode and Since in 2011.
They already trained 3000+ Students & professionals globally and the Worksop is more amazing. There student Classroom Training, Live Webinars, Live Projects, Internship & Strategic Consulting. Online Course is available many Popular platforms of Google Playstore (App), Udemy, etc.
Certification
After Completion the Courses, There provide most valuable Certificate issued by Govt. of India
Address
Address: Unit #304, Diamond Arcade, 1/72, Cal Jessore Road, Kolkata, West Bengal 700055, India
Phone No: +91 80170 49042 / 33 4064 7085
Email Address: info@7boats.com
3. Internet Marketing School
Internet Marketing School is the best Digital Marketing Institute is partnered by Google. They are dedicated to teaching on 8 years and a Total of 11 Centres all over India.
If You are enrolling their Institute They provide many kinds of tools, there Worth Rs.62500 to absolutely free for Every student, Who is making the Successful Certified Digital Marketer.
Some of the Reviews, you are Checking in the below.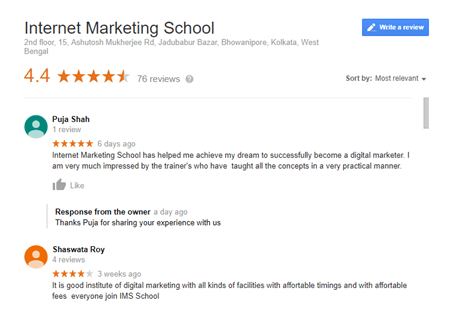 Address
15, 2nd Floor, Ashutosh Mukherjee Road, Bhowanipore, Kolkata – 700020
Phone No: +91-97485-20007
Website: https://www.internetmarketingschool.co.in/digital-marketing-course-kolkata/
4. Karmick Institute
Karmic Institute is one of the Leading institutes all over India, Specially for Kolkata. The founder of Karmick Solutions Private Limited company is a Software Base Company.
After Completing their Digital Marketing Courses to advanced Digital Marketing certificate. Students are Learn more Frequently to learning on Search Engines Overview like Google, Yahoo, Bing, etc. There course Duration in three months.
Address:
116A, Purbalok (Premises No: 1118), Street No: 6th, West Bengal, Kolkata–700099
Phone Number: +91 33 24264362, 9836423755
Website: http://www.karmickinstitute.com
5. W3 WebSchool
W3WebSchool is a famous training organization in Kolkata. They are mainly working on the Web-best training program. The Course is mainly focused on IT and Digital marketing to this industry. Everyone Can Join this digital marketing training Program. Just need basic computer knowledge.
Their course includes digital marketing, blogging, SEO, SMM, viral marketing, online reputation management, inbound and outbound marketing, etc. Very Experienced teachers guide there learning.
Address
Address: Ad Block 16, Ground floor, SALT LAKE SECTOR -1, West Bengal
Phone: +91-7890149401 / 8017270445
Email: enquiry@w3webschool.com
6. Calcutta Media Institute
Calcutta Media Institute was founded in 2011. They offered a Post Graduate Diploma course in digital marketing.
There Course has divided into 2 semesters and the Total Course duration is 1 year. Their final semester involves an internship period. After Completing their course they are Provide for certification examinations for Google Adwords and Google Analytics.
Address
Address: 501, Elgin Chambers 5th Floor, 1A, Ashutosh Mukherjee Road, Bhowanipore, Kolkata-700020
Website: http://www.cmi.net.in
Phone No: +91 33 40576601, 40576605
7. Acesoftech Academy
Acesoftech academy is mainly focused on Web Design, web development, SEO training, and digital marketing. They are also guided to WordPress, Joomla, Drupal, WooCommerce, etc.
Very SEO Professionals and experienced Trainers are designed this Premium Course. Course Duration 3 months and classes are arranged in 3 days a week. Mr. Umar Rahman holds 11 years of professional experience in SEO experience.
Address
Address: Al Hayat Building, G-Block ground Floor, Near Science City, Kolkata-700039
Phone No: +91-9163699555,
Email: enquiry@acesoftech.com
Website: https://www.acesoftech.com
8. Advanced Institute of Digital Marketing
Advanced Institute of Digital marketing is a Leading Digital marketing institute in Kolkata and it is established in 2001 to affiliated with West Bengal University of Technology. They offer 3 types of courses.
Digital marketing-Certification program in digital marketing
The professional program in digital marketing
Advanced course in digital marketing
Address
Address: 238 B, Prince Anwar Shah Road, Lake Gardens, Kolkata–700045
Phone No: +9133 4005 3715
Email Address: info@aidm.in
Website: https://www.aidm.in
9. NIHT digital marketing
Are you finding the Best digital marketing institute who has to provide the Global Certification?
NIHT Digital Marketing institute is to fulfill your requirements and has trained almost 2,00,00 students. Then they also provide a Paid internship.
Address
Address: 25, Ganesh Chandra Avenue, Opposite Mission Cafe, Kolkata–700 013
Email Address: info@niht-india.com
Phone Number: 9830269100
Website: https://nihtdigitalmarketing.com/
10. White Hat Academy
Whitehat academy is one of the largest digital marketing Training institutes in Kolkata, which are mainly focused on PHP preparing the Training Program. It was founded in 2011. There are offered the advances digital marketing training program and their Course duration is 4 months.
There Course included in 10 modules which include social media marketing, multilingual SEO techniques, Facebook PPC management, marketing overview, project management, video and image SEO and more.
Address
Address: Merlin Infinite, DN–51, Office No.–814, 8th Floor, Sector–V, Salt Lake City, Kolkata – 700091
Phone Number: +91-9903194492
Email Address: contact@white-hat.in
Final Thought
India is not too behind of Digital Marketing and its utilities. Especially form Kolkata is the Best Digital Marketing Training hub in India.
If you are Find the Foreign country, Australia to a good Place for the learning Digital Marketing courses. The institute of the University of Technology from Sydney, Victoria University.
Thank you for Spending your Valuable time to our article This article is helpful to you and You can find the best digital marketing training institute. If you have any queries, Comment bellows the article.
Share our article and Send your feedback.