Google is a Review based Search engine. When the user searches anything on google, Google delivers the best result to there user and google analyzed the content or product quality to the reviews, Ratings, etc. When you Searching anythings on google, then you will Show the Ratting Symbol. This is Very Important to google ranking and very effective on SEO. So Developers, This article we will be teaching you, How to add on Rich Snippet (Star Ratting) to your blogger site.
Why We Choose on Blogger?
We will always prefer on google blogger platform to every new bloggers. Because
Blogger is a free platform.
No additional Pay to Hosting and Domain.
Blogger is simple and anyone uses this Platform.
Many Sources is available on the internet to Develope a blog.
No additional Skill is required.
Add on Rich-Snippet(Star ratting)
Open on Blogger Dashboard >> Click on Layout Section and Show You Sidebar Section.

Click on Add a Gadget Section >> Click on Popular Posts and Uncheck on ❑ Snippet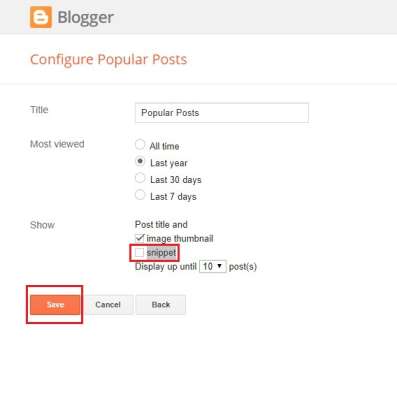 Add Bootstrap Coding on Templates
If you want to Linkup on Bootstrap on your blogger templates. Then click on
Blogger Dashboard >> Click on Themes >> Edit HTML >> Find on <head> . Then Paste This Code in Below.
Copy This Bootstrap Code
<link href='//netdna.bootstrapcdn.com/font-awesome/4.5.0/css/font-awesome.min.css' rel='stylesheet' type='text/css'/>

Add CSS Code on Blogger Templates
Blogger Dashboard >> Then Click Theme on Sidemenu >> Click on Edit HTML >> Find on ]]></b:skin> and Paste on CSS Code before the ]]></b:skin>
Copy This CSS Code
[su_button id="download" url="https://drive.google.com/open?id=1dtU8cZw7agAWdq4LLUiSXsm-m3Vw0wrb" target="blank" background="#f85d23″ size="5″ center="yes" radius="round"]DOWNLOAD CSS CODE[/su_button]

Now Done and Congratulation, You are Sucessfully Add on Rich Snippet(Ratting Symbol) to Your blogger post.
Final Thought
Rich Snippet is a popular way to Rank your website easily and the most effective way to Search SEO. But Content is always king and obviously Write on SEO optimized article and Then rank your website very fast.