When you say WordPress SEO Plugin, everyone thinks of Yoast Plugin.
Yes! Once upon a time, Yoast was the best SEO plugin, but that time is gone and the Market is So Competitive. Did you know that all the advanced features that Yoast Plugin has, you can also get in Free Plugin are Rank Math Plugin?
Today I will review the Rank Math SEO plugin in this article. If you are looking for a good SEO Plugin then read this article carefully.
Rank Math Plugin why better than Yoast Plugin
Rank math Create your site more Easier and more visible on the web. All features are constructible and It has more than 100 parameters that make the measurement of SEO analysis more accurate.
Rank math is a Free Powerful SEO Plugin
Less PHP Request
More Features
Lite weight Plugin
More Easier
If you are using the free version of Yoast, you can use at least 1 or 2 focus keywords but there you can use the unlimited Rank math plugin which allows you to rank in search engines with multiple keywords.
Rank Math plugin User Interface
The user experience of the Rank math plugin would be much better than that of the plugin and its UI (user interface) is very responsive and as a result, it is open on mobile and properly.
In terms of the user interface, Yoast is better for its functionality, but if I look at Ease of Use, the Rank math plugin is very user-friendly and we can control any features only with on-off. Rank math in this direction is King.
Easy Migration the SEO Data from other plugin
Do you planning to change your SEO plugin and are afraid of losing your old SEO data?
Then rest assured, Rank Math has brought for you the Easy to the way Migration process. With the help of which you can easily migrate your old Asia data in the Rank Match plugin, let's see.
First: Install the Rank math Plugin on your WordPress site. Then Click to Settings options. Now Click on Import or If you have previously or any plugin installed.

It will automatically detect this place and with a single click, you can migrate your data to Rank math.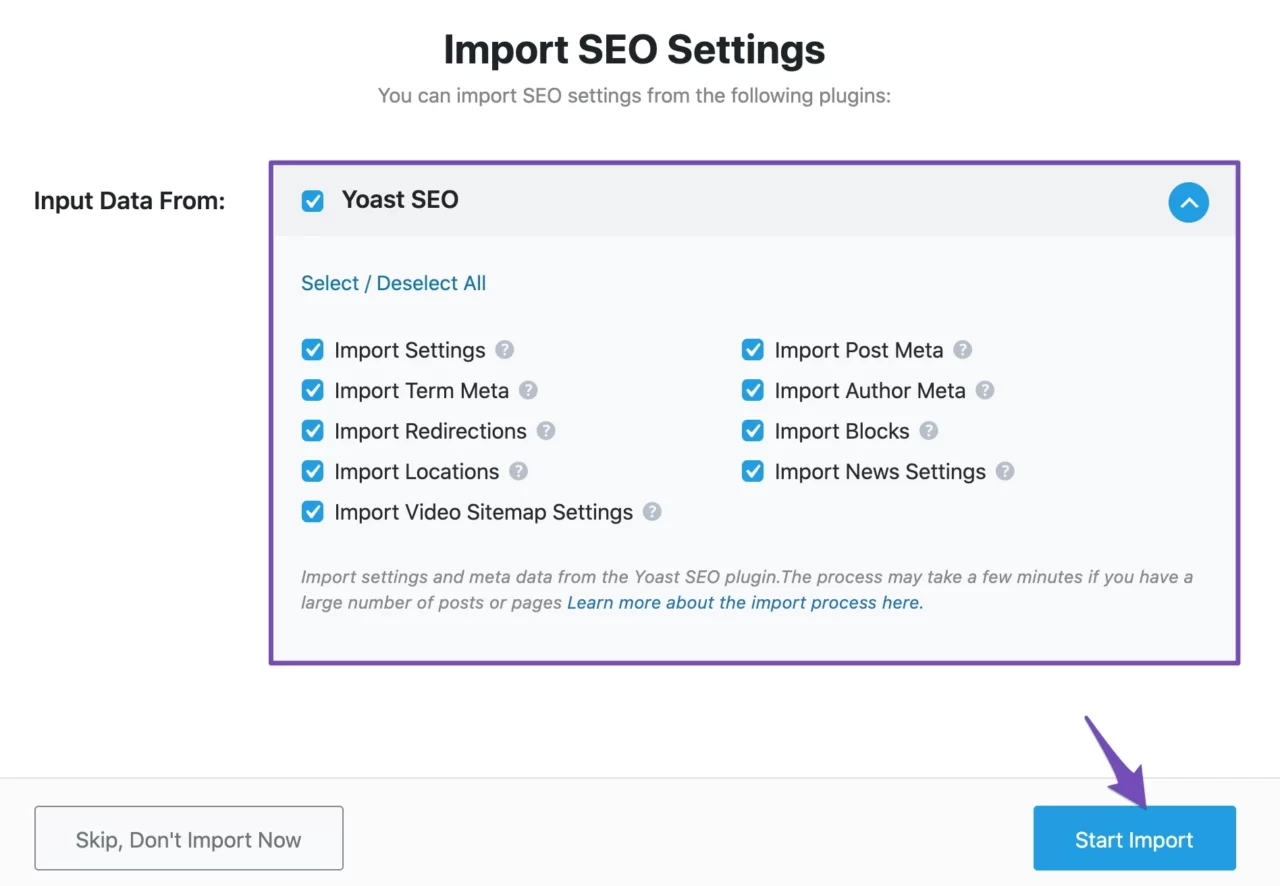 Rank Match Plugin is as easy to Setup as it is user-friendly. So let's see how it can be set up in just 6 steps.
How to Setup Rank Math SEO Plugin
First of all open your WordPress Site Dashboard, Then Click on Plugin options and Search on Rank Math SEO and Now Install and activate now.
Then automatically open on Setup Wizard and Click to finish the all Steps.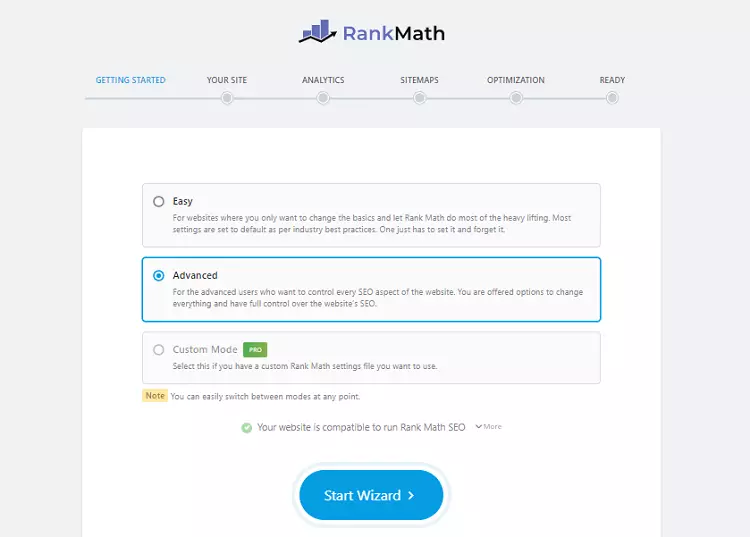 2. Then click on the setup wizard then after clicking select the Site Category and select your mentioned site icon and their size 160×90.
3. Then add your site to Rank Match with Google Services like Google Analytics, so that Rank Math from Google can fetch all the data about your site to its database and optimize SEO.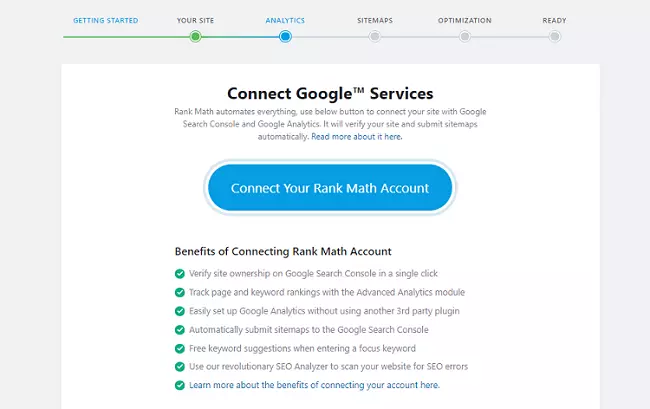 4. To fully visualize Google from your website, you must add Sitemap, So enable the Sitemap option with add the Post and pages options in the Rank Math plugin and then clicking the Next button.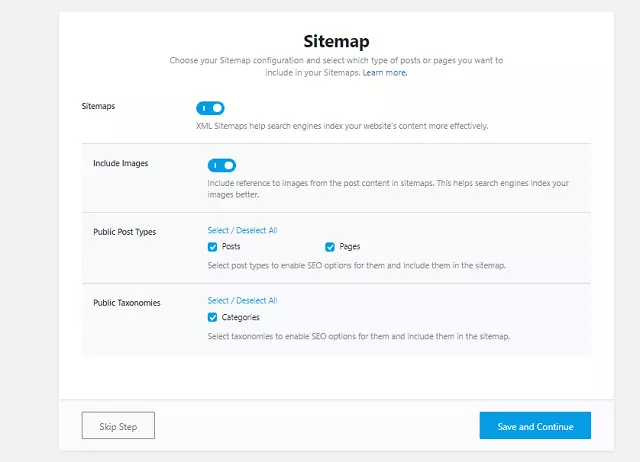 5. Next Step is SEO Tweaks, In this step, you must enable two options like Noindex Empty Category and Tag Archives and Open External Links in New Tab/Window.
Options that enable Google will not index blank pages or categories on your site, which prevents users from accessing that page and your site's user attention.
6. Just show the final steps to fully optimize your site and SEO your site will be shown on this page and congratulations you have successfully installed the Rank Math SEO plugin on your site
Just installing the Rank Math plugin is not the end of all our work, then to further utilize this plugin, we should be aware of all its settings. So let's see how you can fully utilize this plugin. So let's see the General settings
Rank Math Free vs Pro
We know that Rankmath free version gives most of the features for free.
But did you know that Rank Math recently launched the Pro version, which includes some exclusive features that are not seen in other plugins?
All the features are compared below and I can say that if you take the pro version you will be wrong.
| FEATURES | FREE | PRO |
| --- | --- | --- |
| Meta Tag and titles | ✔ | ✔ |
| Social media Des. | ✔ | ✔ |
| Focus keyword | ✔ | ✔ |
| XML sitemap | ✔ | ✔ |
| Schema Data | ✔ | ✔ |
| Auto Indexing | ✔ | ✔ |
| Image SEO | ✔ | ✔ |
| 404 monitor | ✔ | ✔ |
| Link Counter | ✔ | ✔ |
| Google Analytics | ✔ | ✔ |
| Internal link Suggestion | ✔ | ✔ |
| Breadcrumbs | ✔ | ✔ |
| Keyword Tracking | ✖ | ✔ |
| Google Trends | ✖ | ✔ |
| Google News SEO | ✖ | ✔ |
| Local SEO | ✖ | ✔ |
| Image Watermark | ✖ | ✔ |
| Sitemap Video SEO | ✖ | ✔ |
| Advanced WooComm. | ✖ | ✔ |
| Earnings History | ✖ | ✔ |
General Settings
Rank Match Plugin is not just an SEO plugin, it is an SEO hub. It has many types of settings such as a 404 monitor, ACF, AMP settings, analytics, instant indexing, and powerful features.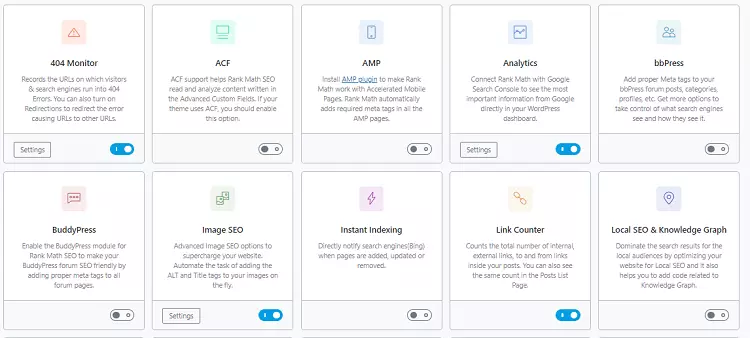 a. 404 Monitor:
You may know that if any kind of error page is indexed by Google on your site, it annoys the user and after a bad impact on SEO and the rank of your site decreases.
There is a 404 monitor module for this, through which this plugin will automatically detect the error pages of your site and redirect them to the home page of your site so that Google will not have any bad impact on your site.
b. AMP module:
AMP Stands for Accelerated Mobile Pages, This feature allows the pages of any website to open in the browser very quickly, for which the website needs to be AMP ready, depending on many factors.
This module of the Rank Math plugin enables AMP with just a single click and it optimizes SEO with an AMP theme.
c. Analytics:
Another important feature is Analytics. If you enable the Analytics feature, then all the data from Seach Console.
Rank Math helps to optimize the SEO data by fetching it in its database and directly showing the data on your WordPress dashboard.
d. bbPress
This is a Forum type WordPress plugin. If your site is forum type or community type, then this module plays a major role in optimizing the SEO of those sites and adding proper metadata to the Search engine.
e. BuddyPress
If your site is a social media or forum type, then the BuddyPress module is useful to optimize the SEO of those sites. However, your BuddyPress plugin must be installed on the WordPress site.
f. Image SEO
Nowadays, to write a fully SEO optimized article, it is very important that you do image SEO, then it will be visible in Google and will rank quickly.
This is a very important module, if you keep it enabled, it will automatically replace the metadata if you do not have SEO Optimize or metadata for any image of the website.
g. Instant Indexing
I don't know if this feature works in the Google search engine at all but if you index each of your articles for the Bing search engine,
Then with this feature, you can instantly index any article and every notification will be sent to your mail as soon as it is indexed. I think this is a great feature in the Rank Math plugin.
h. Link Counter
This is a Link Counter module. With this model, you can easily analyze the number of Internal-External links in your article in general and whether it is appropriate to have them and its counter will be clear in front of you.
i. Local SEO
If you have a local business, enabling this feature will help your site do local SEO on Google as well as any search engine.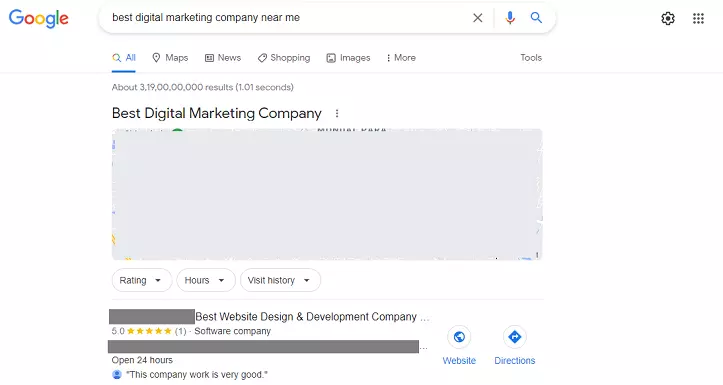 This means that if someone close to you searches for a service and that service is yours, all the data about your company name or your agency will be visible to them.
j. Redirections
If any of your previous posts or pages are backdated or have changed their permalink for some reason, then that page becomes obsolete on Google and the user cannot visit that page, then that page shows 404 or non-existence.
It can be auto-redirected to a new updated page, with the help of this module that the page is free of errors or redirected to your site's homepage.
k. Schema (Structured Data)
When you do a Google search, pages from different sites show up in front of you, from here the title of the page that you open is the work of schema markup data. Not only does it make the article attractive, it also makes it SEO friendly and helps in web ranking.
If you do not manually add schema data to the old article as soon as you enable it, it automatically generates schema data and you place it in each article.
l. SEO Analysis
Another important feature is SEO Analysis, With this feature, the Rank Math Plugin analyzes each of your articles and selects the quality of the article after more than 70 tests.
Recommends keywords and different factors on how to do better. All these recommendations come to your text editor when you write the article.
m. Sitemap
When you write an article in a text editor on a WordPress site, on your web page, Then the Structure is automatically created in the back-end HTML called a sitemap in the language of the web.
When you index an article in Google, Google Bots analyzes your article based on that sitemap.

This plugin's Sitemap module creates a Proper Structured Sitemap for each of your articles, allowing Google to easily analyze your article. As Google can index it, it must be enabled to get better results.
n. Google Web Stories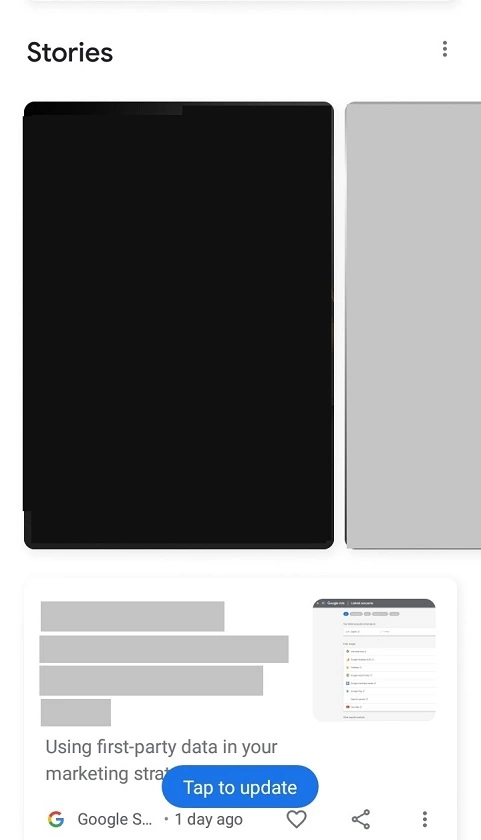 Google Web Store currently only works in the mobile Chrome browser. When you open the Chrome browser or open the Google Apps, some thumbnails appear below it in the form of articles. We gave some pictures below to understand.
Enabling this feature optimizes the SEO of the Google web series and makes it easier for your articles to show up in search engines in the form of web stories.
o. WooCommerce
As you may have noticed, if you search for the name of a product on Google, it shows up in the form of a thumbnail in the search engine, these are called product snippets. As a result, users are attracted to purchase more products.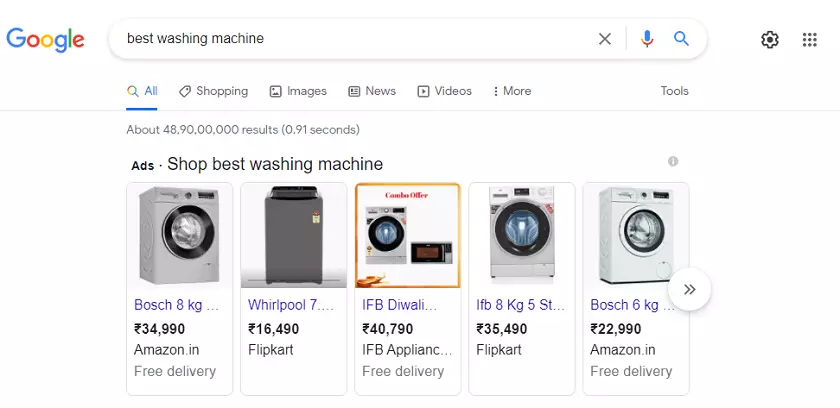 With this module, you can easily optimize the SEO of e-commerce sites.
Conclusion
I hope you have a clear idea about the Rank Math plugin and I hope you find it useful. Be sure to share the article with your friends