Astra and GeneratePress are both the most popular and lightweight WordPress themes on the web.
This is the very tough comparison between the Generatepress vs Astra because both of the Themes are the best to according to there aspects.
Currently, our site is running on the Generatepress Premium theme.
GeneratePress vs Astra
Generatepress is the lighting fast WordPress themes when compare to Astra Themes because Generatepress use to fewer quarries. Both Themes are developed to Schema optimized. Below we discuss there Pros and Cons.
👍 Pros Generatepress and Astra
| GeneratePress Pros | Astra Theme Pros |
| --- | --- |
| Generatepress are Developed to the individual Developer | Astra Themes are Developed to a Company. Who are offered many different Plugins. |
| Pricing is Starting from Free to $49 | Pricing is Starting from Free to $59 |
| Free Version available | Free Version available |
| Rattings ⭐⭐⭐⭐⭐ | Rattings ⭐⭐⭐⭐⭐ |
| Most of the Page builder is Supported Like elementor, Beaver builder, Thrive architect | Almost any of the Page builder is Supported like Beave builder, Astra Theme Builder etc. |
| Custom module or Elements are available and customizable | Custom Elements are Free |
| Free Site Demos are available | More Customizer Options |
| WooCommerce Compatible | WooCommerce Support |
👎 Cons Generatepress and Astra
Generatepress Theme Cons
Astra Theme Cons
There module is limited and not free
No ability to design elements
Full Customizer option are available to there Premium Version
Customizer option is a bit of Slow
Styling Feature are Limited
More Styling features are Supported to High Performing hosting
Documentation is not Properly scaled. There
Support forum is active but huge Spaces
There Documentation is not Easy.
Free Version is Just Time Wasting, But Pro is Just Awesome
Free Version is available to the Basic Feature
Good Support Response Time
Response Time Is Slow Compared To Generatepress
Lot's of there Features We will picked a Winner of Generatepress Themes. You will see our Comparison, we will give five star rating to both of these themes.
But Why we Choose the Winner because for these Reasons
Generatepress and Astra Review
#1 Introduction
GeneratePress, is one of the lightest and Schema optimized theme developed by a individual Developer, Tom Usborne. It's currently over 2.5+ billion downloads 200,000+ active users are present on the web.
Astra is also a Popular and lite WordPress themes and They are Developed by a Company Brainstorm Force. There other Popular plugins such as Ultimate Addons. Astra currently runs over the 700k+ active users.
But What there Difference? Lets Go!
#2 Features
If we compare to both themes Generatepress vs Astra, Then the First point is their unique Features. Both of there basic feature is the same as multiple Page builder compatibility, Woocommerce integration, Footer customization and many more.
Generatepress Features
Generatepress is a Simple and Lightweight Themes, They don't use heavy integration, So They use fewer quarries and Smooth run.
Multiple types of hooks and filters are available.
If You don't want to the Pagebuilder, You can use there default Lite weight page builder.
GP Themes is a Schema optimized themes, So don't need to integrate third-party tools.
Multiple Modules are available which allows you to add User-friendly header, custom layouts to your site more friendly.
Astra Features
Astra is a Stylish With Responsive wordpress Themes. Astra theme is a developed by a Company, So They do the multiple Work to without losing the Speed.
Pre-build LMS (Learning Management System) Integration
Huge and multiple Category of Demos are available
Optimized Megamenu is Supported
Elementor and Beaver builder Supported
Winner: Astra
#3 Multi Page Builder Supported
If we are talking to the Page builder Compatibility both themes are Supported almost all types of Page builder are supported. But the Rare cases Some of The page builder are not responsive to the both themes
GP with the better Page builder Support to compare with the Astra Themes.
GP Supported Page Builder
Generatepress is Supported most of the Popular Page builder like Elementor, Beaver Builder, Thrive architect, etc.
GP offer Site Library options mean Pre Built Layout, If you import there Pre-built template, Then you have to show three options like Elementor, Beaver Builder, or Custom Coded Templates. Like as the below
If You Choose any Template, Then Your Existing Website layout have remove and Recommended Plugin with Page builder are require to install. When You install all recommended Plugins, Then Your site are ready to run.
Astra Support Page builder
Astra is also Supported both of the Page builders but in Some cases, all page builders are being unresponsive. Like Thrive Page builder is not fully compatible with Astra, otherwise too good.
Astra have different Page elements layout compare to Generatepress. If you want to disable page builder to Separate Pages, You can do that.
Both Themes Generatepress vs Astra are Support Default Header, footer, Sidebar etc. but You can design your own header and footer to using the page builder.
Winner: Generatepress
#4 Amazing User Interface
If you are looking at the all difference of both Themes Generatepress and Astra, Then the next things of there user-interface. First of all, install the themes Appearance >> Themes >> Add New >> Search on Astra or Generatepress.
Generatepress UI
If you are installing on Generatepress User-interface. Then Click on Appearance >> Generatepress.
There have different types of modules and Just enable or Disable it separately. But You need the License key. The license key is helpful in receiving the upcoming updates.
Different types of modules are available on Generatepress but not have huge customizer options because the developer is already optimized these themes, So no need to add multiple modules or plugins.
You can Purchase to Cheapest Price of Generatepress Premium
Winner: No Winner
Astra Theme UI
If We Compare to Both UI of Generatepress and Astra, the Major difference to there both User-interface. When you install on Astra theme like as Appearance >> Themes >> Add New >> Astra
More Customizer options are avail to the Astra Look there picture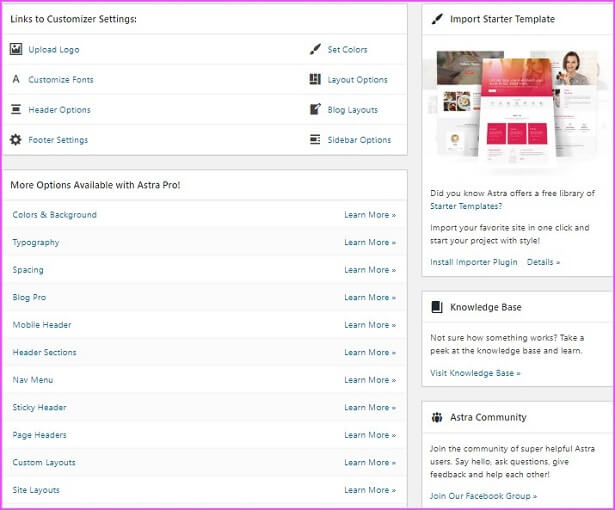 Download the Astra Themes : Click here
Astra offers multiple modules like header, Background Colour, Logo, Sticky Header, Footer Widgets, Scroll To Top, etc. You can control all of the things to your Theme Panel, doesn't need to Visit Live customizer Page. If you want to extend their features, Just Click and activate it additional free modules and Let's fun.
Finally, their Site Library options are available and demo sites also. Just Choose your Demo templates and import them easily.
# Page Loading Speed
When we compare both Generatepress and Astra Themes loading Speed, A bit of difference of there Speed.
GP Theme Speed
We know GP is a lightweight theme. If you use Elementor Page builder, Then GP is a bit of Slow speed to affect their all performance. We Check there Performance and Show that result as you see below.

Astra Theme Speed
Astra is also a Lightweight theme and there accessibility is too better than Generatepress. They also more integration but that is a lite effect to the server. We will also Check on the Page speed of Astra pro. Then their result is shown below.

After watching so much, We will declare the winner of Astra.
Winner: Astra
#6 Themes Customizer
Generatepress Customizer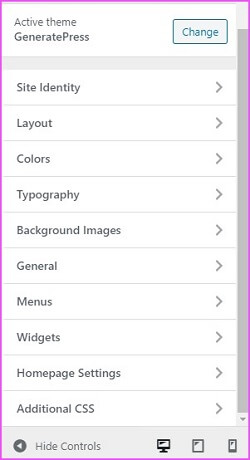 Theme Customizer is now organized after the release of there GP Premium 10.0 version. Fast Customizer panel to compare than Astra.
You can modify Theme Colour, Theme font as called typography, Footer, Header, etc. You can customize your Theme footer and footer text is HTML Supported.
Generatepress also offers additional CSS importer. Means You can customize your existing Themes according to your requirement. They offer Custom Widget module, Means you can add an unlimited custom widget to your any section Like Header bar, Sidebar, Footer bar.
Generatepress mainly supported Three Types of Menu as Primary Menu (Main Menu of the Header), Secondary Menu (Footer menu), Canvas Menu on the Left side Corner.
Generatepress and Astra theme both are offered to Theme Preview options to three Type of Devices like Desktop, Tablet, Mobile. You can watch your design to different types of devices.
Astra Customizer
If you install a free version of Astra, Then you will see the only widget section under the Astra customizer. If you activate their full version, You need Astra Pro addon. When you Purchase their license, Then you get there Astra Pro Addon.
Astra Pro (Licensed version) offers likely the same features as you see on the Generatepress theme but some features are different like.. You can add Custom Breadcrumb means you can add secondary navigation is a integrate of scheme that reveals on the user's location to your website visitor.
There footer bar is different to the GP themes. You can add two Footer line text or you can add Footer text and footer menu or custom logo.
You can adjust your Sidebar widget and Change there position. Additional CSS is also supported as the GP themes but not need to use.
Winner: Astra
#7 Support and Documentation
Customer Support is the most important thing and varies there quality. Astra and GP, Both of there Customer support are excellent but not equal. We will try to compare there Customer Support System and documentation
Generatepress Support and Customization
Generatepress has no Personal Customer support assistant. They have a Forum like as Google, If you're facing any issues, you need to just log in your GP account and freely ask your quarries. Never mind that it will take you more than 30 Minute to get your answer right away.
There documentation is awesome, because every module is organized and knowledge base. You can read and easily manage your themes.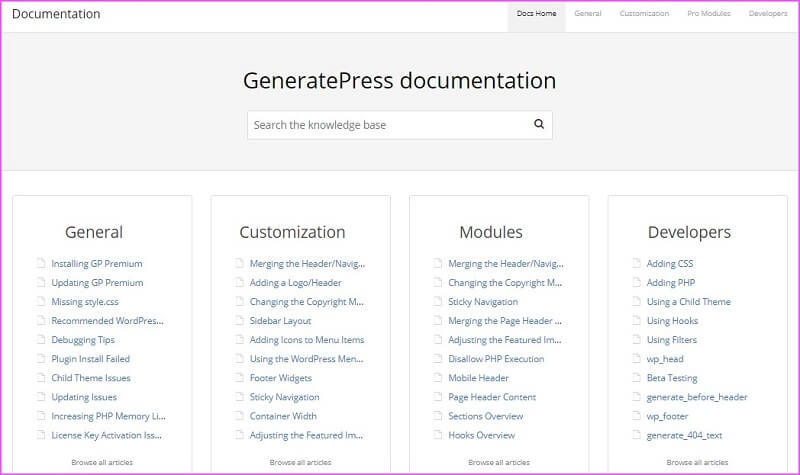 Astra's Support and Documentation
Astra's Customer Support is good but not Great cause there customer support is a bit of slow to compare the Generatepress Support. GP support is faster and user friendly.
Some users complain or feedback there Slow response which you see there Facebook Page. They also have an official YouTube Channel, which helps visual learners.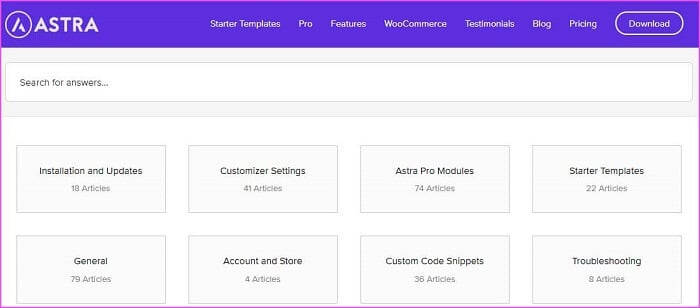 There Documentation File is a Forum type, every aspect is organized and beautifully designed as you see on the GP forum. 200+ articles are present in their Support blog who are helping to design your website.
Winner: Generatepress
Also Read: Genesis Framework Theme vs Astra Themes
#8 Pricing
If we are talking there Pricing both of the Theme and their features according to there prices are expected. There are have a bit of difference to those themes on Generatepress premium and Astra Pro.
Generatepress Premium Price $49.95
Astra Pro offers three types of Plans like ASTRA PRO, MINI AGENCY BUNDLE, AGENCY BUNDLE
Astra Pro Starting Price $41
Conclusion
In the current time, both of the themes are popular, user-friendly, and lightweight.
I think If you are using on the Low power Server and want to create a Simple and Clean website Site and have Low budget Then You can definitely go for Generatepress Themes.
But If your requirements are higher and expect too high quality means If you are using on different types of animation, graphics to your site and Your server is Powerful, Then you go for Astra Pro Themes.
Finally, we decide these comparisons between Generatepress vs Astra and Winner is ASTRA PRO to according there Performance and features.
Hopefully you like this article! Thank you, Have fun!