We are Know Google Adsense is the one and Only advertising Company who are Pay properly and time to time. So we are all Trust.
But if you want to get the approval of Google Adsense, it has some standard rules, one of them is, you have to put some important pages on your blog.
These pages are Mandatory Otherwise google are not approve your sites. So, Guys, We are Discuss This article, How to create Privacy & Policy, Contact us Pages for free.
Privacy Policy Page
Disclaimer Page
Contact us Page
About us Page
Sitemap Page
Create Beautiful About us Page
It is very important for a blog to have an About Us page. Because with this page your readers get a chance to know about you. All the information on your site is authentic and your readers can understand how efficient you are in that niche.
In addition, to get approval in Google AdSense, you must provide About Us page.
How to Create
First of all, Open your Blogger Dashboard and Click to the Pages Section. Then Click to New Page.
Finally Open Your New Page and Then Describe of about your blog. Like About ur Profession, Passion and How to gather Your Knowledge etc.
We will Recommend a tool, which will help to Create a beautiful Professional About us page for Free of Cost.

Create Privacy Policy Page
Privacy Policy Page This is an important page on your website because through this page you fully explain to your users what kind of policy your website has and the user assures that all his data is safe with us.
We promise that we will never sell any of your data to third party websites.
You can create this page by following some rules, handwriting but now this type of page creation is very easy with automated tools.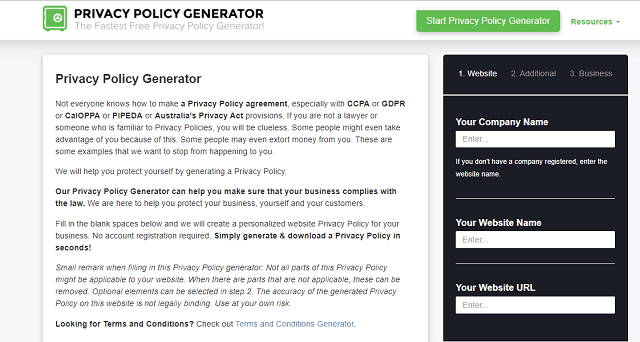 This tool will give you all the data that you want from you and finally you can easily create a privacy policy page.
Once this page is created, you will find it in HTML format, and if you use Blogger, you will need to convert Blogger's visual text format to HTML text and paste the HTML code generated in the tool into your Blogger site.
Create Disclaimer Page
Such a disclaimer page is a notice, through which you tell your users about the responsibility for all the content on your website.
It is very important to have all the websites and Google trusts you to have it and easily approves it through AdSense.
Create Contact us Page
After hearing the name, you may have understood what a contact page does. Yes, friends, through this page you leave an option for your users to interact with the website owner.
It is very important to have all the websites because it allows you to convert your users from query to Sell or on the other hand the company can give you sponsorship for publishing articles on your site. In a word, it is a medium of communication.
How to Create Contact us Page
Create a Simple Blog Pages and Don't Publish. Then Click the HTML Section.
Open Google Forms and Sign in Your Existing Gmail ID. Create a Simple Forms. BLANK >> Click Here >> Open a New Blank Page .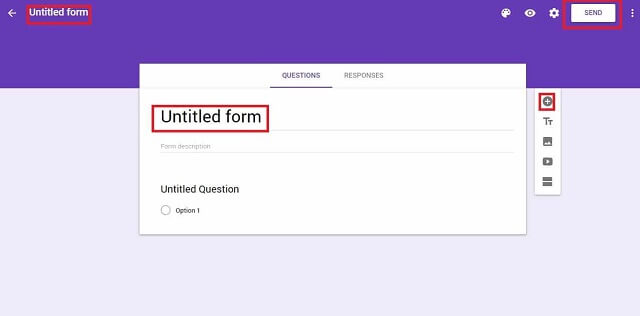 Now You Can Customize Your own Contact forms as You Want and Make sure Edit your Page Resolution size. Now Click on >> SEND .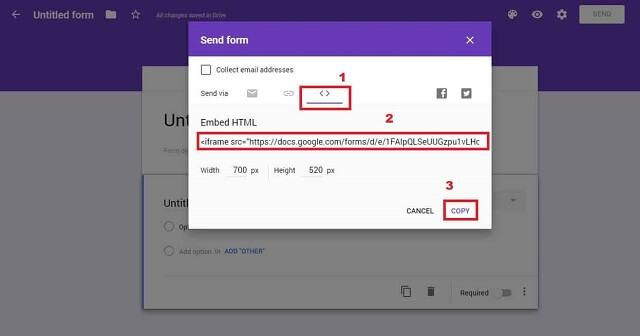 Then Copy Your Google Forms Code and Paste Your Blog's HTML Section.

Now Finally Click on PUBLISH. Then Successfully Published and Your beautiful Contact us Page on Blogger for free.
Create Sitemap Page On Blogger
First of all, Open Your Blogger Dashboard. Now Click on Pages >> Then Click on New Page >> Copy the Whole HTML Code and Paste to Your Blank Blogger pages on Your HTML Text Section.
<script>
//<![CDATA[
var postTitle=new Array();var postUrl=new Array();var postPublished=new Array();var postDate=new Array();var postLabels=new Array();var postRecent=new Array();var sortBy="titleasc";var tocLoaded=false;var numChars=250;var postFilter="";var numberfeed=0;function bloggersitemap(a){function b(){if("entry" in a.feed){var d=a.feed.entry.length;numberfeed=d;ii=0;for(var h=0;h<d;h++){var n=a.feed.entry[h];var e=n.title.$t;var m=n.published.$t.substring(0,10);var j;for(var g=0;g<n.link.length;g++){if(n.link[g].rel=="alternate"){j=n.link[g].href;break}}var o="";for(var g=0;g<n.link.length;g++){if(n.link[g].rel=="enclosure"){o=n.link[g].href;break}}var c="";if("category" in n){for(var g=0;g<n.category.length;g++){c=n.category[g].term;var f=c.lastIndexOf(";");if(f!=-1){c=c.substring(0,f)}postLabels[ii]=c;postTitle[ii]=e;postDate[ii]=m;postUrl[ii]=j;postPublished[ii]=o;if(h<10){postRecent[ii]=true}else{postRecent[ii]=false}ii=ii+1}}}}}b();sortBy="titleasc";sortPosts(sortBy);sortlabel();tocLoaded=true;displayToc2();document.write('</br><div class="sitemap-link"><a href="http://www.blogsupporter.com/2016/05/how-to-create-blogger-blog-sitemap-page.html">Create Blogger Sitemap <i class="fa fa-angle-double-right" aria-hidden="true"></i></a></div>')}function filterPosts(a){scroll(0,0);postFilter=a;displayToc(postFilter)}function allPosts(){sortlabel();postFilter="";displayToc(postFilter)}function sortPosts(d){function c(e,g){var f=postTitle[e];postTitle[e]=postTitle[g];postTitle[g]=f;var f=postDate[e];postDate[e]=postDate[g];postDate[g]=f;var f=postUrl[e];postUrl[e]=postUrl[g];postUrl[g]=f;var f=postLabels[e];postLabels[e]=postLabels[g];postLabels[g]=f;var f=postPublished[e];postPublished[e]=postPublished[g];postPublished[g]=f;var f=postRecent[e];postRecent[e]=postRecent[g];postRecent[g]=f}for(var b=0;b<postTitle.length-1;b++){for(var a=b+1;a<postTitle.length;a++){if(d=="titleasc"){if(postTitle[b]>postTitle[a]){c(b,a)}}if(d=="titledesc"){if(postTitle[b]<postTitle[a]){c(b,a)}}if(d=="dateoldest"){if(postDate[b]>postDate[a]){c(b,a)}}if(d=="datenewest"){if(postDate[b]<postDate[a]){c(b,a)}}if(d=="orderlabel"){if(postLabels[b]>postLabels[a]){c(b,a)}}}}}function sortlabel(){sortBy="orderlabel";sortPosts(sortBy);var a=0;var b=0;while(b<postTitle.length){temp1=postLabels[b];firsti=a;do{a=a+1}while(postLabels[a]==temp1);b=a;sortPosts2(firsti,a);if(b>postTitle.length){break}}}function sortPosts2(d,c){function e(f,h){var g=postTitle[f];postTitle[f]=postTitle[h];postTitle[h]=g;var g=postDate[f];postDate[f]=postDate[h];postDate[h]=g;var g=postUrl[f];postUrl[f]=postUrl[h];postUrl[h]=g;var g=postLabels[f];postLabels[f]=postLabels[h];postLabels[h]=g;var g=postPublished[f];postPublished[f]=postPublished[h];postPublished[h]=g;var g=postRecent[f];postRecent[f]=postRecent[h];postRecent[h]=g}for(var b=d;b<c-1;b++){for(var a=b+1;a<c;a++){if(postTitle[b]>postTitle[a]){e(b,a)}}}}function displayToc(a){var l=0;var h="";var e="Post Title";var m="Click to sort by title";var d="Date";var k="Click to sort by date";var c="Category";var j="";if(sortBy=="titleasc"){m+=" (descending)";k+=" (newest first)"}if(sortBy=="titledesc"){m+=" (ascending)";k+=" (newest first)"}if(sortBy=="dateoldest"){m+=" (ascending)";k+=" (newest first)"}if(sortBy=="datenewest"){m+=" (ascending)";k+=" (oldest first)"}if(postFilter!=""){j="Click to view all"}h+="<table>";h+="<tr>";h+='<td class="header1">';h+='<a href="javascript:toggleTitleSort();" title="'+m+'">'+e+"</a>";h+="</td>";h+='<td class="header2">';h+='<a href="javascript:toggleDateSort();" title="'+k+'">'+d+"</a>";h+="</td>";h+='<td class="header3">';h+='<a href="javascript:allPosts();" title="'+j+'">'+c+"</a>";h+="</td>";h+='<td class="header4">';h+="Read all";h+="</td>";h+="</tr>";for(var g=0;g<postTitle.length;g++){if(a==""){h+='<tr><td class="entry1"><a href="'+postUrl[g]+'">'+postTitle[g]+'</a></td><td class="entry2">'+postDate[g]+'</td><td class="entry3">'+postLabels[g]+'</td><td class="entry4"><a href="'+postPublished[g]+'">Read</a></td></tr>';l++}else{z=postLabels[g].lastIndexOf(a);if(z!=-1){h+='<tr><td class="entry1"><a href="'+postUrl[g]+'">'+postTitle[g]+'</a></td><td class="entry2">'+postDate[g]+'</td><td class="entry3">'+postLabels[g]+'</td><td class="entry4"><a href="'+postPublished[g]+'">Read</a></td></tr>';l++}}}h+="</table>";if(l==postTitle.length){var f='<span class="toc-note">Show All '+postTitle.length+" Posts<br/></span>"}else{var f='<span class="toc-note">Show '+l+" posts by category '";f+=postFilter+"' the "+postTitle.length+" Total Posts<br/></span>"}var b=document.getElementById("toc");b.innerHTML=f+h}function displayToc2(){var a=0;var b=0;while(b<postTitle.length){temp1=postLabels[b];document.write("<p/>");document.write('<p class="labels"><a href="/search/label/'+temp1+'"><i class="fa fa-plus-square-o" aria-hidden="true"></i> '+temp1+"</a></p><ol>");firsti=a;do{document.write("<li>");document.write('<a class="post-titles" href="'+postUrl[a]+'">'+postTitle[a]+"</a>");if(postRecent[a]==true){document.write('<img src="http://1.bp.blogspot.com/-_VZwBpHw_SI/UrXvLbFxacI/AAAAAAAAFiQ/ZGqWZUZesCI/s1600/new_icon.gif" style="max-width: 22px"/></span></strong>')}document.write("</li>");a=a+1}while(postLabels[a]==temp1);b=a;document.write("</ol>");sortPosts2(firsti,a);if(b>postTitle.length){break}}}function toggleTitleSort(){if(sortBy=="titleasc"){sortBy="titledesc"}else{sortBy="titleasc"}sortPosts(sortBy);displayToc(postFilter)}function toggleDateSort(){if(sortBy=="datenewest"){sortBy="dateoldest"}else{sortBy="datenewest"}sortPosts(sortBy);displayToc(postFilter)}function showToc(){if(tocLoaded){displayToc(postFilter);var a=document.getElementById("toclink")}else{alert("Just wait... TOC is loading")}}function hideToc(){var a=document.getElementById("toc");a.innerHTML="";var b=document.getElementById("toclink");b.innerHTML='<a href="#" onclick="scroll(0,0); showToc(); Effect.toggle('toc-result','blind');">?? Display Table of Contents</a> <img src="http://1.bp.blogspot.com/-_VZwBpHw_SI/UrXvLbFxacI/AAAAAAAAFiQ/ZGqWZUZesCI/s1600/new_icon.gif" style="max-width: 22px"/>'}function looptemp2(){for(var a=0;a<numberfeed;a++){document.write("<br>");document.write('Post Link : <a href="'+postUrl[a]+'">'+postTitle[a]+"</a><br>");document.write('Read all : <a href="'+postPublished[a]+'">'+postTitle[a]+"</a><br>");document.write("<br>")}};
//]]>
</script>
<script src="https://www.yoursite.com/feeds/posts/default?max-results=9999&amp;alt=json-in-script&amp;callback=bloggersitemap"></script>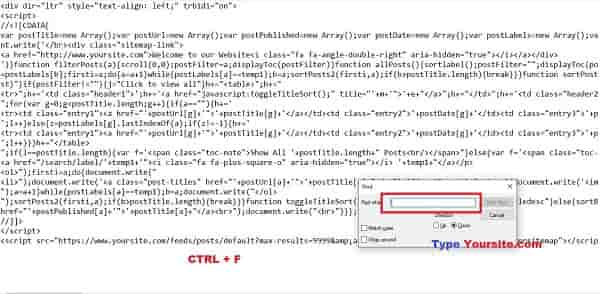 Then Find (CTRL+F) on Yoursite.com and Replace Your Site URL. Then You can Create Successfully Sitemap Pages and Submit Your Google Webmasters.
We Hope You Understand my every Point and You can Successfully Create a Privacy Policy / Contact Us / About Us Pages for free. If anything doubt, Please Comment us, We will definitely resolve your every query.