PayPal, being one of the earliest online payment systems, has established itself as a prominent player in the industry. However, it is important to note that PayPal is not the sole option available.
Selecting the most suitable financial technology for your business necessitates careful consideration, as it presents unique challenges. While PayPal serves as an exemplary payment gateway, Paypal alternatives with buyer protection exist, and among them, you may find a better match for your specific business requirements.
The finest online payment systems typically share a set of key features, which include: International Transaction Capabilities.
Local Currency Support
Money Transfer Functionality
Bank Account Integration
Competitive and Transparent Fees
Online Business and Ecommerce Support
By considering these common features, businesses can make informed decisions when selecting an online payment system that aligns with their specific requirements and objectives.
1. Wise (formerly Transferwise)
Ideal for: Individuals and service-based businesses engaging in frequent international transactions.
Wise, formerly known as TransferWise, presents itself as a cost-effective alternative to PayPal for those involved in numerous international money transfers.
The platform prides itself on offering the "real" exchange rate, devoid of any hidden fees that inflate the cost. In a recent transaction of $2,000, Wise was found to be £106.47 cheaper for a recipient in the UK compared to PayPal.
But there's more.
Wise's Borderless multi-currency account comes equipped with a debit card, empowering users to manage funds in over 40 currencies. It facilitates various financial operations such as payroll management, batch payments, client billing, and more.
Moreover, Wise for Business allows you to generate invoices in your Customers' preferred currency.
Now, how does TransferWise manage to provide such competitive fees for international transfers?
Here's the breakdown: Suppose you wish to send $1,000 to your friend in the UK. Your $1,000 is deposited into Wise's American account, following which they send the equivalent amount in British pounds from their UK account, utilizing the genuine exchange rate.
In essence, the money never physically crosses borders, resulting in swift international transfers.
Pricing
Opening an account is free, and the fee for sending money starts at 0.41%.
2. Shopify Payments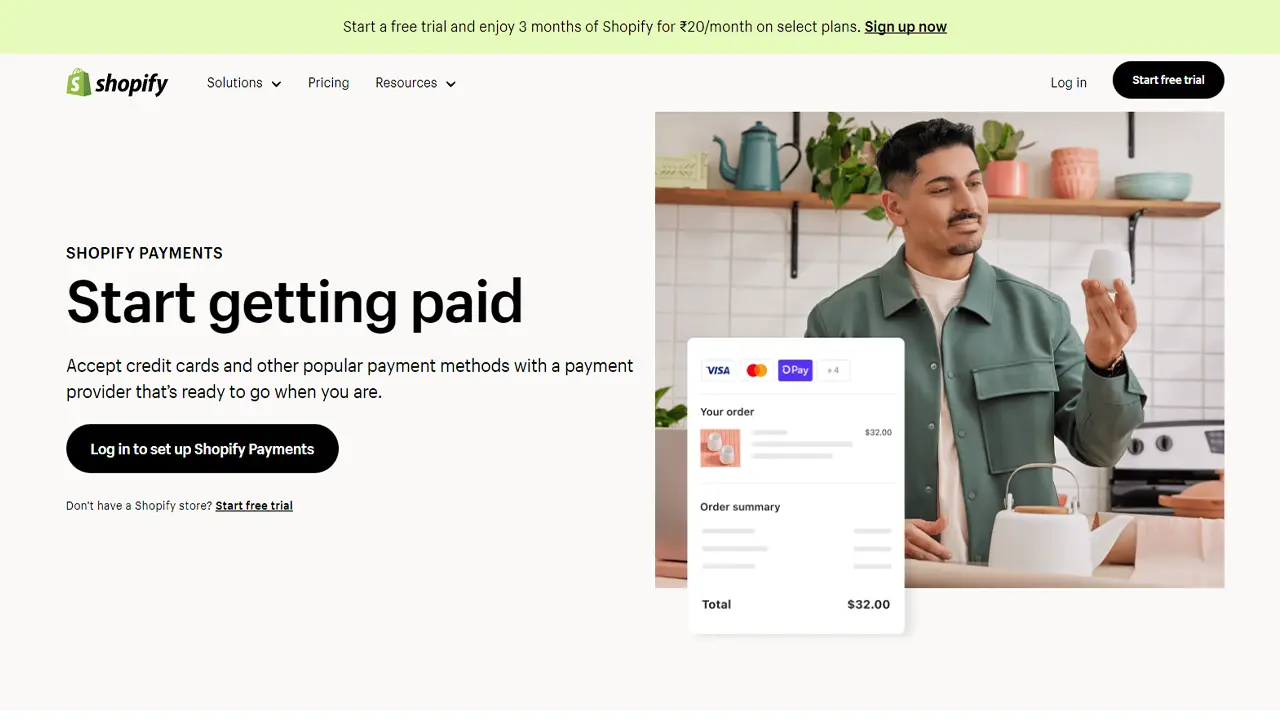 Ideal for: E-commerce businesses utilizing the Shopify platform.
Shopify Payments is designed specifically for e-commerce businesses operating on the Shopify platform, offering a convenient way to accept credit and debit card payments directly on your Shopify store without the need for a third-party service.
While this tool is exclusive to Shopify stores, it holds significant value for those seeking growth in the e-commerce industry. Why? Because as an alternatives to PayPal, Shopify Payments streamlines the payment process for sellers.
This payment solution seamlessly integrates with your Shopify store, ensuring a user-friendly experience from the start. It enables you to accept all major credit cards, and customers can even sign up with Shopify Pay for a smoother checkout process.
Furthermore, Shopify Payments is compatible with various other platforms, including Facebook shops, Pinterest Buyable Pins, Facebook Messenger, Amazon, eBay, and more.
Moreover, if you plan to sell in person, you can utilize Shopify POS (point of sale) to accept card payments.
Pricing
The pricing for Shopify Payments starts at $39 per month for a basic Shopify account, and credit card transactions are subject to a fee of 2.9 percent plus $0.30 per transaction.
Apps
Available on iOS and Android platforms.
3. Stripe
Ideal for: Businesses seeking an intuitive and adaptable API (application programming interface).
Stripe, a highly popular alternative to PayPal, particularly caters to online businesses.
This payment solution firmly believes that payment issues are primarily rooted in code rather than finance, positioning itself as a business that prioritizes developers.
Consequently, integrating and customizing the service through their straightforward API is effortless. Unsurprisingly, numerous prominent digital business tools such as Shopify offer seamless Stripe integrations. You can find additional details about Shopify's payment integrations here.
Stripe enables you to accept payments from customers worldwide, with an automatic deposit of funds into your bank account. Additionally, mobile payments are supported.
However, it's worth noting that transaction fees with Stripe are comparable to PayPal's, which can be considered a downside.
Overall, Stripe excels in its flexibility and customizable nature, yet individuals with limited programming knowledge may encounter difficulties.
Pricing
Stripe applies a fee of 2.9 percent of the transaction value plus $0.30. Applications: iOS / Android.
4: Bluesnap
With Bluesnap's All-in-One Payment Platform, businesses can effortlessly accept online and mobile payments on a global scale. By integrating the BlueSnap payment gateway, businesses can facilitate secure transactions for e-commerce, subscription billing models, and other online payment needs.
Designed to streamline commerce for both B2B and B2C enterprises, BlueSnap offers a comprehensive Payment Platform.
Pricing
BlueSnap's standard plan incurs a transaction fee of 2.90% (+$0.30), calculated as a percentage of each transaction.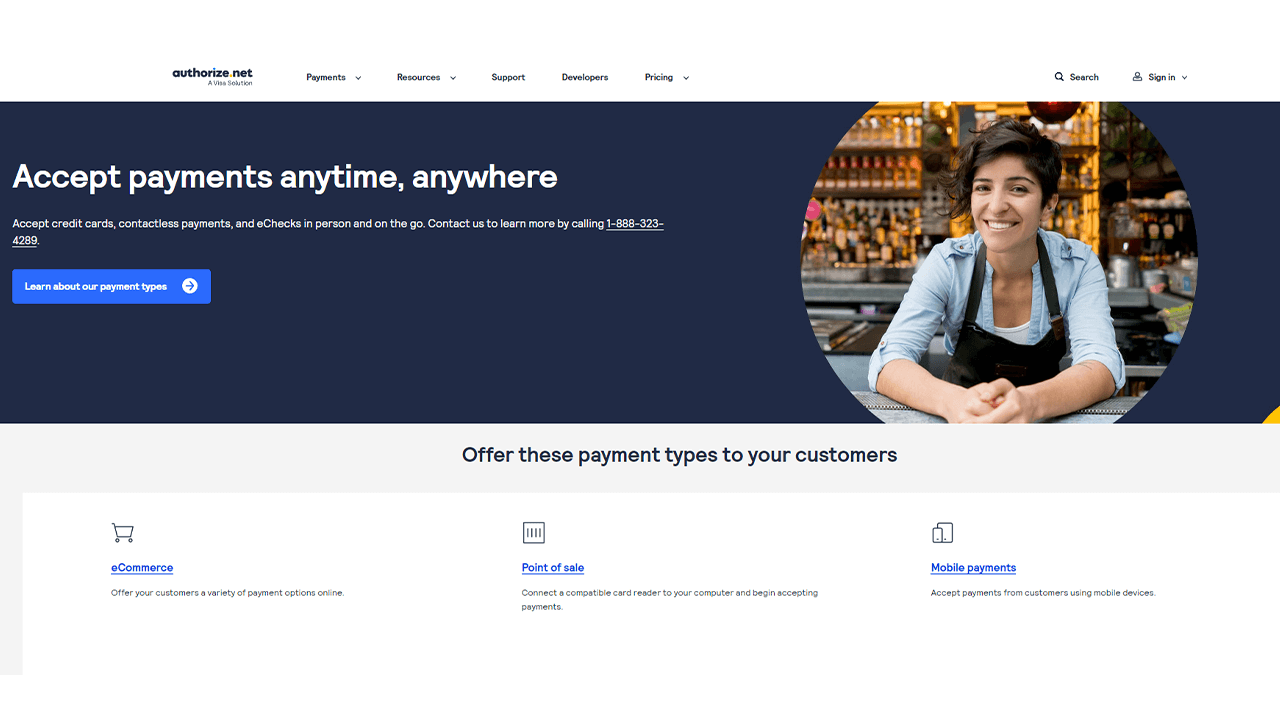 Ideal for: Small businesses seeking exceptional customer support and top-notch security.
While not as widely recognized as some other alternatives to PayPal, Authorize.Net has its own strengths.
As a subsidiary of Visa, this service offers unparalleled user support, available 24/7 and provided by real people at no additional cost.
Authorize.Net has earned consistent praise for its reliability and strong security measures.
Moreover, businesses will appreciate the additional features such as invoicing, recurring billing, point-of-sale checkout, and a robust API.
The platform boasts an intuitive interface and seamless integration with other payment providers, including Visa Checkout, PayPal, and Apple Pay.
However, as a PayPal alternatives, it may not be the most suitable option for personal use, as it lacks the ability to send and receive payments from family and friends.
Pricing: Plans start at $25 per month for the gateway fee, with an additional transaction fee of 2.9 percent plus $0.30.
Applications
Available on iOS / Android platforms
6. Payoneer
Ideal for: Small to medium-sized businesses seeking a comprehensive payment solution.
Payoneer is a reliable option that enables businesses to receive fast and secure payments. It specifically caters to small and medium-sized businesses and places emphasis on sectors such as e-commerce, online advertising, freelancing, and vacation rentals.
Similar to TransferWise, Payoneer offers a debit card alongside its online account, allowing you to withdraw funds from your bank or ATMs worldwide.
Unlike Stripe, setting up an account with Payoneer is quick and doesn't require programming knowledge.
Payoneer adopts a straightforward pricing structure. The fees are billed on a monthly basis, and transactions between Payoneer accounts are free. However, credit card transaction fees are slightly higher compared to other services, and there is typically a fee for transferring money to a bank account.
Pricing: Payments from other Payoneer customers are free. Customers will incur a 3 percent charge for credit card transactions, while checks will be subject to a 1 percent fee.
Applications
Available on iOS and Android
7. Dwolla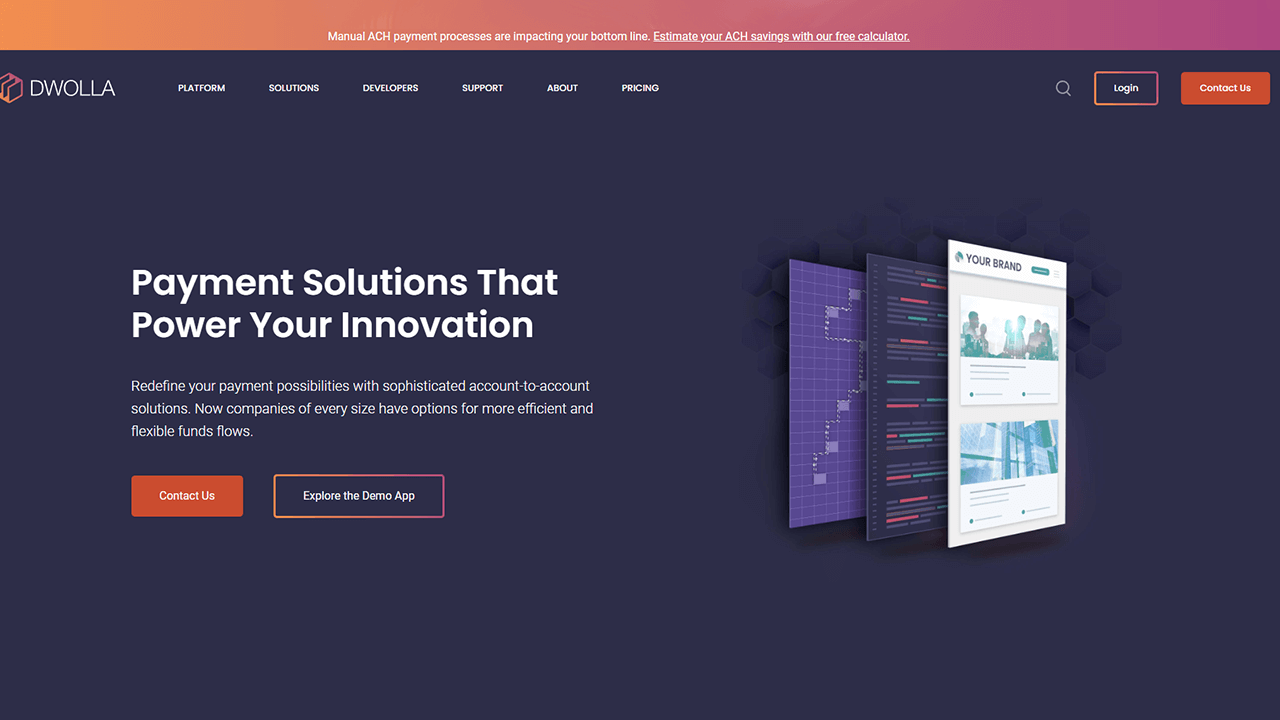 Ideal for: Established U.S.-based businesses dealing with a large number of bank transfers.
Dwolla is an advanced payment solution designed for rapidly growing businesses. This alternative to PayPal is highly developer-friendly and offers seamless integration with your application.
It also provides a white-label API that allows businesses to customize the branding of the checkout experience, making it a powerful and user-friendly option.
Dwolla is built to handle high volumes of payments, with the ability to send up to 5,000 secure payments in a single API request. The service boasts exceptional reliability, ensuring a 99.9 percent uptime, and offers robust security features along with a dedicated customer success team.
It excels in facilitating ACH bank transfers, making it an excellent choice if you anticipate a substantial number of bank transfers. However, it's important to note that Dwolla is exclusively available in the United States and may not be suitable for those with international payment needs.
Pricing
Under the Starting plan, there is a fee of 0.5 percent of the transaction amount. However, there is a minimum charge of $0.50 and a maximum limit of $5.00.The Scale plan starts at $2,000 per month, and custom plans can be requested
8. Square
Ideal for: Businesses focused on in-person sales.
Square originated as a mobile point-of-sale solution, but it also serves as an alternative to PayPal for online payments through invoices or websites.
Square's point-of-sale service is exceptional, enabling you to accept various forms of payment, including cards, cash, checks, and gift cards. It offers options to print receipts or send them electronically to customers. Upon signing up, you'll receive a free reader to kickstart your operations.
Moreover, Square allows you to swipe cards even without an internet connection.
As a PayPal alternatives, Square provides additional features such as invoicing, recurring payments, real-time inventory management, and payroll tools.
Square Checkout seamlessly integrates with your e-commerce store, facilitating easy online payments through a streamlined checkout process.
Pricing
Point-of-sale transactions incur a fee of 2.75 percent, with varying fees for different transaction types.
Applications
Available for iOS and Android.
Ideal for: Large businesses and corporations.
Braintree is a service under the PayPal umbrella, but it is still worth considering as an alternative to PayPal.
Designed for large businesses, Braintree counts prominent companies like Uber, Dropbox, GitHub, and Yelp among its clients for payment solutions.
The primary advantage of Braintree lies in its emphasis on reducing friction and enhancing conversions through a seamless checkout experience.
Braintree simplifies the acceptance of online payments in over 130 currencies from more than 45 countries. The service offers an array of advanced features that PayPal lacks.
In addition to standard features expected by larger businesses, such as recurring billing and hands-on customer support, Braintree integrates smoothly with PayPal and other major payment providers like Apple Pay and Google Pay.
Due to its customizable nature, integrating Braintree with your website requires programming knowledge.
Pricing
The standard pricing is 2.9 percent plus $0.30 per transaction, although custom pricing plans are available upon request.
Ideal for: Cryptocurrency enthusiasts and online gamers.
Skrill serves as a viable alternative to PayPal, offering several unique features. The platform is exceptionally user-friendly, allowing users to easily send and receive money, store card details for swift purchases, connect bank accounts, and make payments using only an email address and password.
Additionally, Skrill provides a prepaid debit card that can be utilized globally, and transferring funds to a bank account is a swift process.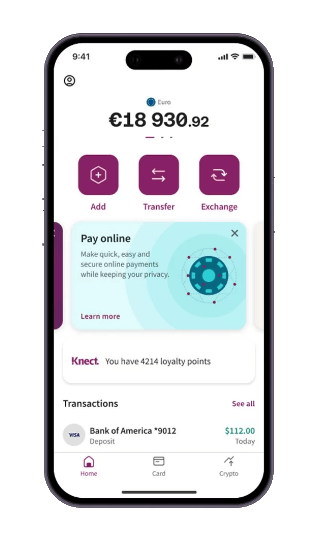 Skrill was specifically designed with cryptocurrencies like Bitcoin, Ether, and Litecoin in mind. It is also well-suited for online gambling and gaming activities that involve financial transactions.
Similar to PayPal, Skrill employs robust fraud prevention tools, which occasionally lead to inconvenient account freezes. However, the main advantage lies in its low fees.
Pricing
Skrill charges a fee of 1.45 percent plus $0.50 for sending and receiving funds while withdrawing money to a bank account is free.
Applications
iOS & Android
11: Amazon Pay
Ideal for: A versatile payment solution with trusted brand recognition.
Amazon Pay serves as an excellent PayPal alternatives, particularly due to its widespread brand familiarity among customers. By allowing Amazon users to log into their accounts and utilize their saved payment details, this payment solution streamlines the checkout process and reduces friction, potentially boosting your conversion rate.
Amazon Pay is available on all devices, granting you and your customers the flexibility to manage payments conveniently.
The transaction fees and fraud protection offered by Amazon Pay closely resemble those of PayPal. However, integrating this payment solution with your online store and customer relationship management (CRM) system requires programming knowledge.
Pricing
For domestic U.S. transactions, Amazon Pay charges a fee of 2.9 percent plus $0.30, while cross-border transactions incur a fee of 3.9 percent plus $0.30.
12: Verifone ( formaly as 2CheckOut)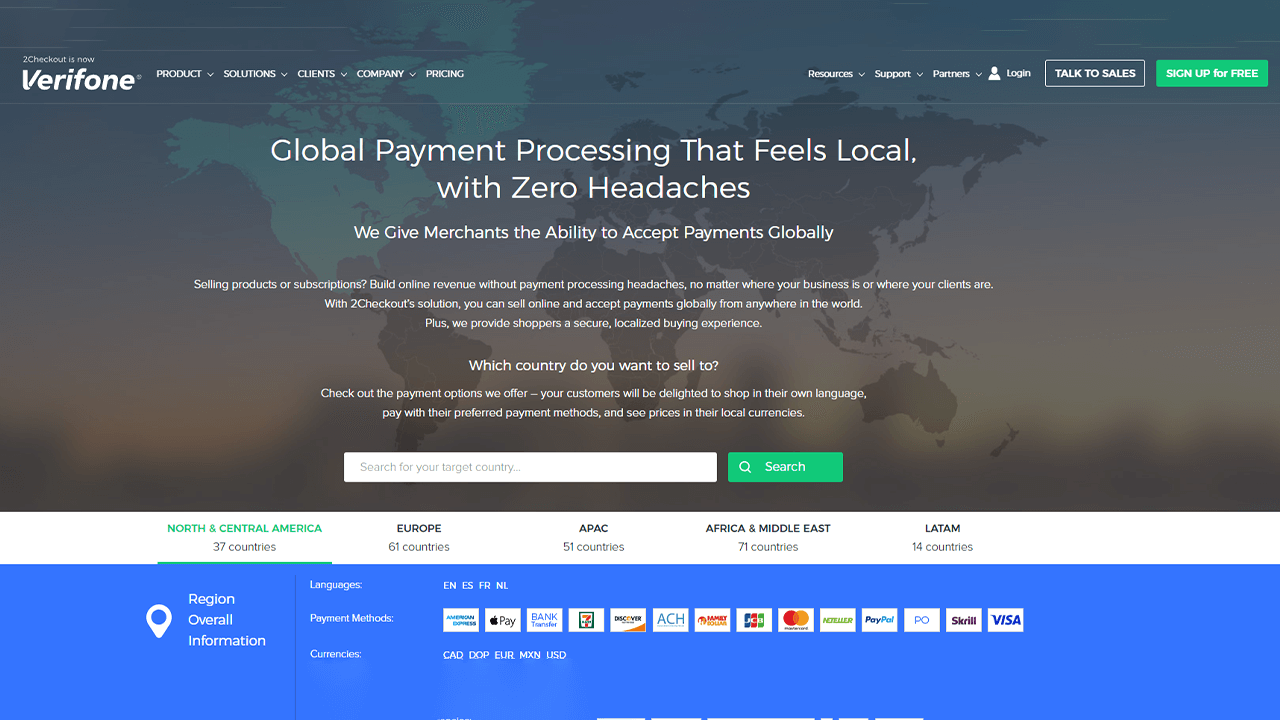 Ideal for: Businesses requiring a versatile payment provider compatible with various currencies, countries, and languages.
Verifone serves as an excellent alternative to PayPal, which specializes in international transactions. The platform supports eight payment types, an extensive range of 87 currencies, availability in 30 languages, and operates in over 200 countries. This ensures that accepting payments from your customers, regardless of their location, is hassle-free.
Verifone offers tailored checkout experiences for different countries and allows further customization options. Additionally, the service enables you to accept payments through 45 different methods. When it comes to fees, Verifone's charges for transactions within the United States are comparable to PayPal's.
However, the platform offers lower fees for international transfers. Furthermore, Verifone maintains a high level of security with over 300 fraud checks conducted per transaction.
Pricing
Verifone provides three pricing plans to suit your specific requirements. Transaction charges start at 2.9 percent plus $0.30.
Applications
iOS
13. Quickbooks Payments
Ideal for: Freelancers and small service-based businesses seeking a professional accounting tool alongside payment capabilities.
Quickbooks Payments, developed by Intuit, complements their accounting software, Quickbooks, making it an ideal PayPal alternatives. This solution is designed with small businesses in mind, offering intuitive financial tools and speedy transactions.
What can you expect from Quickbooks Payments?
With this payment solution, you can effortlessly create and send invoices, establish recurring billing, accept mobile card payments, process ACH bank transfers, and set up automated payment reminders.
Furthermore, you can seamlessly integrate your bank accounts with Quickbooks to streamline your accounting processes and eliminate manual data entry. The platform also enables you to connect payments with payroll and timesheets.
Pricing
Quickbooks Payments provides various pricing plans tailored to your specific needs. The basic pay-as-you-go plan provides free bank transfers and card payments at a rate of 2.9 percent, along with an additional $0.25 fee.
Applications
iOS / Android
14. PayUMoney
PayUMoney, established in 2002, is a well-known payment gateway that offers its services to e-commerce websites and individuals. It has gained a strong presence in nearly 17 countries worldwide.
One of the key features of PayUMoney is its ability to provide access to an e-payment portal for unregistered merchants or businesses. Furthermore, PayUMoney enables customers to transfer any unused or idle funds from their wallets back to their associated bank accounts.
Pricing
In terms of pricing, customers are charged a percentage of the amount transferred to the bank account through the PayUMoney wallet. This percentage can be up to 2.5% of the transferred amount. However, there are no charges for transferred amounts received as refunds.
15. WooCommerce Payment
Since 2011, WooCommerce has been empowering entrepreneurs by enabling them to transform their WordPress websites into online shops. With almost four million active users, this popular eCommerce plugin facilitates the creation of elegant websites, inventory management, and order fulfillment.
WooCommerce is a free, open-source WordPress plugin that allows you to easily convert your website into PayPal alternatives for eCommerce. Its open-source nature grants users extensive customization capabilities, making it highly flexible.
WooCommerce Payments, a payment solution provided by the WooCommerce team, offers a seamless checkout experience. Customers can complete their purchases directly on your online shop, without having to leave the site or create accounts with PayPal or Square. This streamlined process helps reduce abandoned cart rates.
Pricing
When it comes to pricing, WooCommerce Payments does not have any setup charges or monthly fees. For transactions made with U.S.-issued credit or debit cards, there is a fee of 2.9% + $0.30 per transaction. Transactions made with cards issued outside the U.S. incur an additional 1% fee.
Synopsis: Exploring Top Alternatives to PayPal
While PayPal offers numerous advantages and features, it's worthwhile to explore other excellent free alternatives to PayPal available. These alternatives often come with lower fees and cater to diverse requirements, making them worth considering.