Thrive Themes Review: Are you Engaging Your Content Look like more attractive? If Yes! Then Thrive themes are to fulfill your requirements.
Why my review is the best on ever the internet? Cause Because I have been using Thrive Architect theme for twenty and more websites for two years. So I have deliver better review to You in this themes.
Product name
Thrive Architect
Inbuild Features
1. Lead generation
2. 100+ Prebuilt Templates
3. Attractive layout
4. A/B split testing
Competitor
Elementor, Divi Page builder
Our Ratings
This article We will throw the ultimate review n the Best WordPress Page builder Thrive architect.
Thrive Themes Review 2020
Are you really concerned about making your landing page more attractive? Here the Thrive architect
What is Thrive architect
Thrive architect is the most Powerful Front-end drag and drop WordPress Page builder. When I bought this theme 2 years ago it was called Thrive Content Builder.
If you have been dreaming about your dream website, this page builder can fulfill all your dreams in an instant.
The main Strength of the Thrive themes, It's offer Drozen of Pre-built template categories Like
Landing Page
Funnel Page
Product page
Blog Post
Email Templates
Thrive themes like a Company, They also offer many more types of products according to the market like Thrive Quiz Builder, Thrive Optimize, Thrive Leads, Thrive apprentice etc.
Who is the Owner
Thrive architect is owned by Thrive Themes. This is a digital production company. They offer more types of marketing tools Especially for WordPress
Thrive Architect User Interface
The User Interface is Clean, Simplified, and Lite-weight Smoother. The user experience is completely reconsidered and therefore the design is completely revamped.
When I bought the Drive Content Builder plugin, its UI was not as good Responsive but gradually improved and more advanced to what you now know as Thrive Architect.
New organized UI drag and drop easily find every elements Which is more helpful when you are customize your Pages.
Trust me, You have been Create Professional user friendly Webpage to using this Page builder.
Elements of Thrive Architect
Thrive architect offers Lots of amazing elements. You can see the design blocks in the right corner on the landing pages. Just click on [+] Symbol.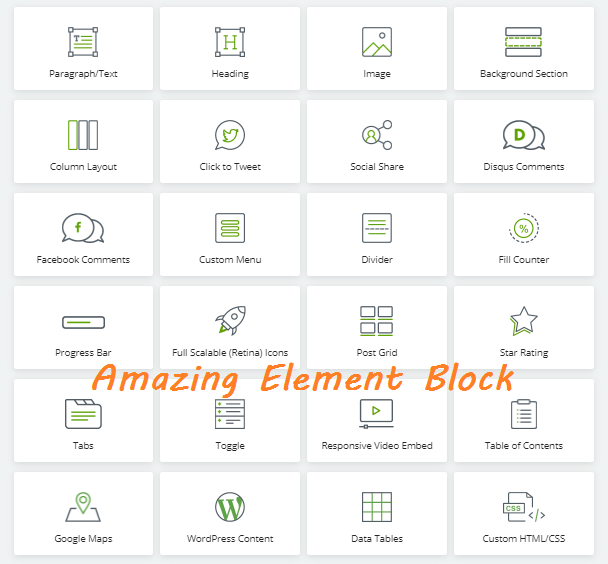 A total of 40+ elements is present in this page builder. Every element has different categories. Each element is divided into different categories, so let's move on.
Foundation Block
In this block, we will get useful elements like
Text, image,
Building sections,
Content box,
Symbols
Logo
If you place the logos to your site, Then you can easily do it, Just drag this element to your page area and Place logo quickly as the same work to the other elements.
Building Blocks
This the most detailed element block, because You can do anything to using these elements. You can use lots of features like
Click to Tweet
Countdown Evergreen
Countdown
Credit Card
Custom HTML
Call-To-Action
Content Reveal
Divider
Facebook Comments
Disqus Comments
Custom Menu
Tabs
Video
Toggle
WordPress Content
Google Map
Fill Counter
Icon
Guarantee Box
Lead Generation
Post Grid
More Tag
Progress Bar
Social Share
Star Rating
Numbered List
Styled Box
Table of Contents
Testimonial
Tables
Each element has its own separate function according to their name. If I go through this article to discuss each in a different way then the size of the article will increase a lot. However, I will try to explain the main points to you through this article
Custom HTML and CSS
Thrive themes also offer custom HTML and CSS integration. If You are a coder and want to create custom From, button, Snippets. You can do it, using this page builder plugin.
You can separately design every Column to using HTML and CSS
Mobile Responsiveness Test
When You Completed Your design, You can Preview your Layout on mobile Screen But you don't need a mobile for that, you can see your mobile preview on your PC.
Even You can check Your layout on multiple devices like PC view, mobile view, and Tablet view.
Hundreds of Pre-builded Layout
Thrive offers 100+ Pre-built templates, Just click on the layout of the template you like and your complete landing page will be created instantly. Select your Template and Choose templates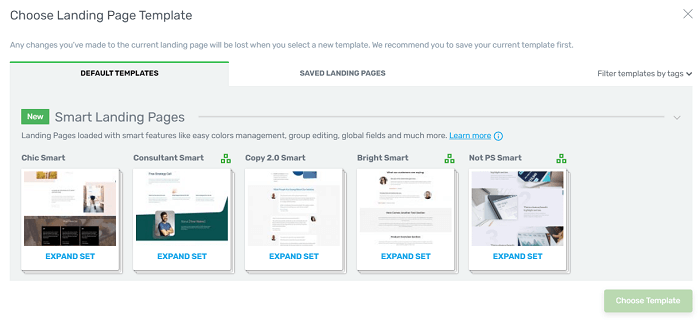 Different types of templates are Present to there section like Ebook Templates, Sales funnel templates, Portfolio templates, Blog Homepage Templates.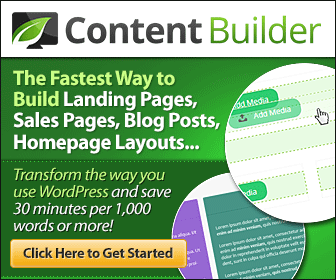 If you want to design your website from scratch, Then Create a New Page and Choose the New Fresh layout and implement your layout Column and put the elements. Then Published.
Fancy Divider (Halftone)
Fancy Divider is an amazing element, it allows you to give a different design to the layout of your page which will make it more attractive and also give it a gradient effect. It's also called "Halftone".
You can't see this feature normally. If you choose the Content box elements and then click on Background sections, this allows you to create advanced looking page design. They offer 40+ Pre-built fancy divider options.
You will find similar features in the Popular Page Builder Elementor plugin.
WordPress Content
Let's take a look at how to use the WordPress Content Editor in thrive themes. There are some page builders in the market, who do not allow the default editor of WordPress in their page builder.
But this page builder does not that the category, They allow you to edit the content on their page and you can easily write any text with the WordPress editor.
In addition, you'll even transit the content block from one place to a different with no restrictions.
Element Editor
You can edit Your layout area and like padding, layout Colours, Styling background etc.In addition you can edit each element.
When You are adding to any elements to your design area. Then click this element and open there editing options on the left side of this element.
Activate the Page Builder
At first Upload the Thrive architect Plugin to Your WordPress site as you follow this Step plugins >> Add New >> Upload Plugins >> Select the Plugin and Upload Now. Then Activate it.
Create a Page to your WordPress site. and You Can See on The Top Launch Thrive Architect. You can destinate Your Editing area.
Pricing
Generally thrive themes mainly fix their pricing in membership plans and they offer license to your requirements.
You may have to pay monthly to buy their license and you can also buy for a lifetime. If you buy the Lifetime Plan, you will get Support for 1 year but unlimited updates for lifetime.
Lifetime Support to there monthly plan, as long as you continue to plan. You Should to Purchase there membership and Enjoy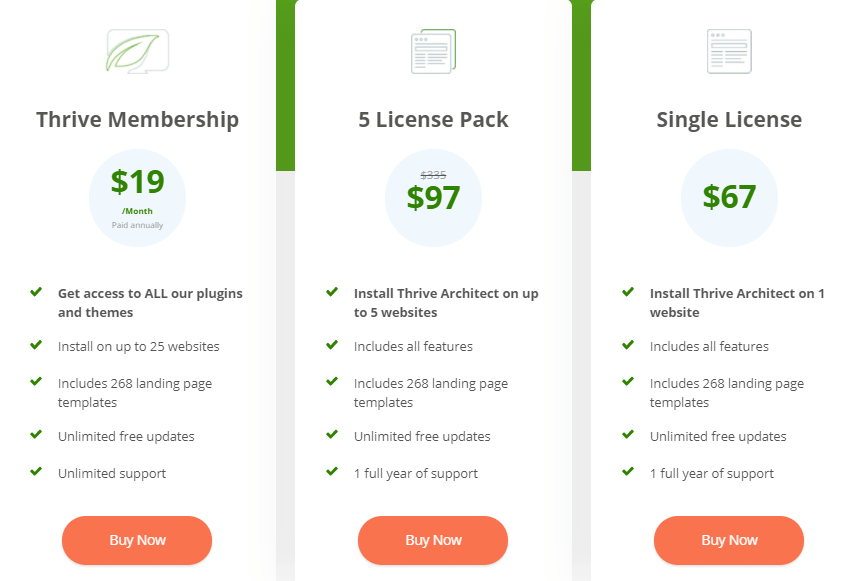 Satisfying Warrenty and Support Team
They offer 100% Satisfying 30 days warranty it means If you are not satisfied with their product, If you claim within 30 days, your money will be refunded.
If you are facing any Product related issue, There user-friendly support is always here for your support.
Read more Review : 8 Real-Life Lessons About Generatepress Vs Astra
👍 Pros of Thrive Architect
Charges at the one-time fee and free updates for lifetime.
Clean and Easy UI
Easy Customizable
A very flexible type of Layout options
Easy Installation Process
100+ Pre-Built Templates
👎Cons of Thrive Architect
Sometimes mobile layout Preview is different to the actual design
Some bugs are Present to there page builder
All elements are not freely draggable.
Conclusion
Thrive Architect is the best page builder to our Side and they are budget-friendly and lightweight.
Hope everybody on this site also had a great day. Please help improve this article or section by expanding it.